GitHub is a web-based hosting service for sharing and publishing code. It is the best tool for software development teams to plan, track, and deliver projects effectively. GitHub allows you to work and simultaneously update your changes in a repository. This makes it easier to look back at previous versions of your work.
For project leaders, a service like GitHub ensures their entire team works on the same repository. Daily activities like pull requests, commits, and branches help organize and manage the project in the best way.
Tracking all these activities in a single dashboard makes it convenient to know the project status, code quality, and the number of people working on it, which in turn helps leaders decide whether the project is on pace. To build such a dashboard, appropriate metrics and KPIs need to be defined before visualizing the repository activity data from GitHub.
Let's see how to define key metrics and KPIs, capture GitHub data, and visualize them using a Bold BI dashboard.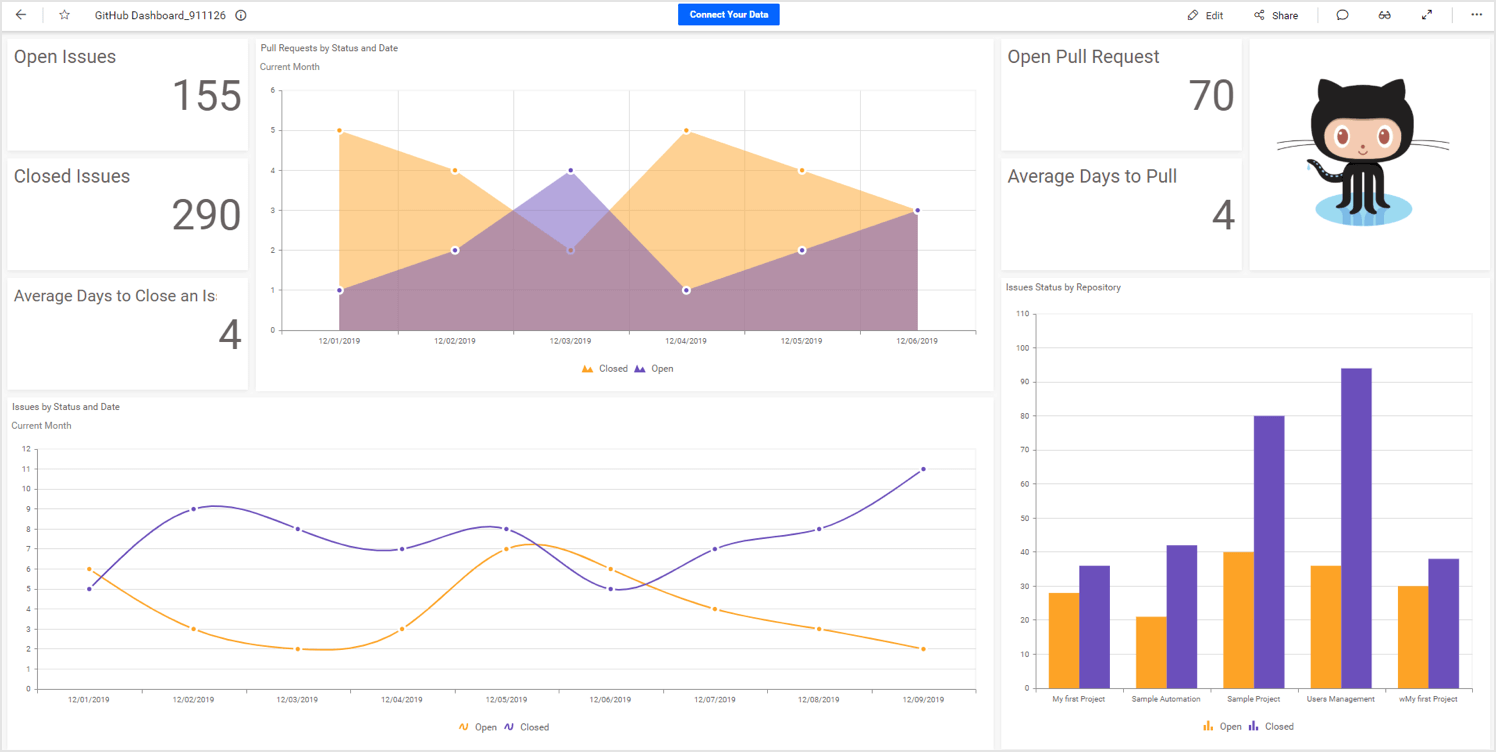 Defining metrics and KPIs
To measure project progress in a repository, the following metrics need to be monitored:
Open and closed issues.
Merge requests.
Time to commit and close an issue.
Items pending over time.
With Bold BI, you can analyze these metrics and visualize GitHub repository data through the following KPIs:
Total issues opened and closed per repository.
Number of pull request opened over time.
Average days to commit and close an issue.
Number of issues opened and closed over time.
Let's see how each of these KPIs can be plotted using Bold BI dashboard widgets that a project leader can then use to assess the project and make quick decisions.
Total issues opened and closed per repository
The column chart in the following figure simply represents issue details of multiple repositories in GitHub. It showcases the number of issues with the open or closed status in each repository as individual bars. This is helpful for team managers to get an idea about the following:
Which project team is working on and has completed more or fewer issues.
Identify low-performing teams in terms of development quality, missing deadlines, etc.
Knowing these, the managers can take necessary actions to improve them in the next development cycle.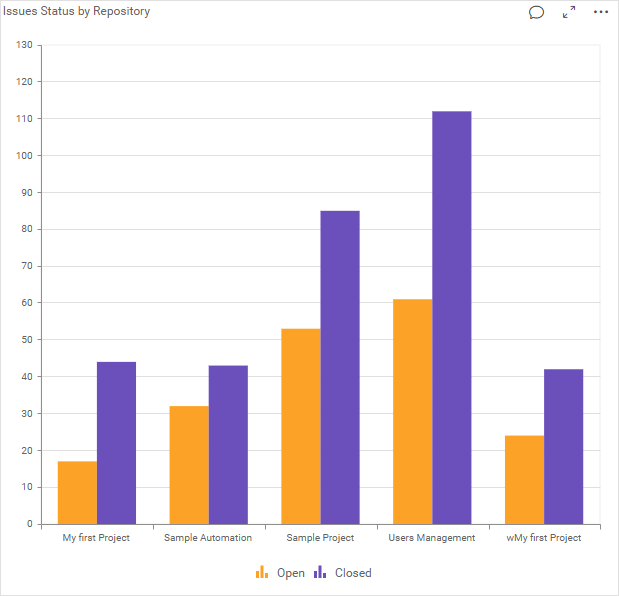 Number of pull requests opened over time
The area chart in the following image depicts the pull request details of a repository, showcasing the status of pull requests over a period of time. With this visualization, project leaders can easily know how many pull requests are merged and how many pull requests need to be merged on certain dates. This helps them decide:
Whether the time budget for the issues was appropriate.
Whether the issue is complex and requires some refinement, or whether it is not within the assigned developers' expertise that may require reassignment.
If team leaders are occupied with other work that leads to a buildup of open issues.
Project leaders can also remind team leaders to check and merge open pull requests while tracking this metric. This helps complete projects on time.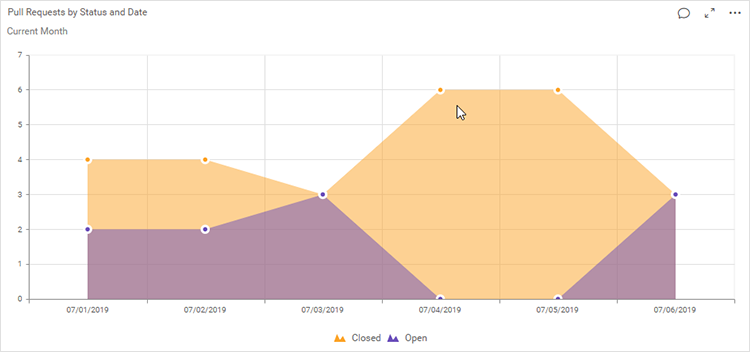 Average days to commit and close the issue
The following card widget provides information about the average number of days required to close an issue. For agile teams, this KPI is useful to estimate the story points for successive sprints based on past issues, or to rectify problems like developer inefficiency, inadequate specifications, etc.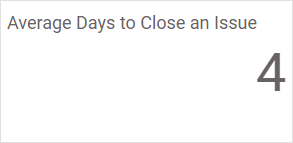 Number of issues opened and closed over time
The following spline chart shows issue status information over a time period. With this, project and team leads can identify how many issues were completed and not completed on specific dates. This lets them estimate the team velocity and plan the next phase of issues efficiently. If more issues are completed, the project can be finished ahead of the proposed timeline. Otherwise, the leads need to take appropriate actions to avoid missing the deadline.

Visualizing GitHub KPIs
GitHub provides REST APIs to fetch specific data from GitHub repositories, such as issue information through the issues API, and pull request details through the pulls API.
Let's see how to create a dashboard to visualize the discussed KPIs using Bold BI.
Create your own GitHub dashboard using Bold BI
You can create a GitHub dashboard either from scratch or by using a built-in dashboard template. Check out our guide for how to create a dashboard from scratch, create a GitHub data source, and add widgets to your dashboard.
You can connect your own GitHub data to the built-in GitHub dashboard template. To use the built-in GitHub dashboard template, click the + icon in the navigation bar to the left.

Choose the Start from Template option. After that, choose the GitHub dashboard template from the list. Now, a GitHub template dashboard will load with sample data.
You can also connect your own GitHub data to the template dashboard by using the Connect Your Data option at the top of the dashboard. Click it to open an authorization window. Provide the requested repository authentication details like domain URL, username, and password. It is very important to authorize a connection to your GitHub account from your dashboard. Then, click Continue to prepare the dashboard. Once the preparation process is complete, the current page renders the GitHub dashboard with your data.
Conclusion
We hope this article helped guide you on how to analyze and visualize your GitHub repository activity in detail. If you have any questions on this blog, please feel free to post them in the following comment section. Get started with Bold BI by signing up for a free 15-day trial and create more interactive business intelligence dashboards. You can also contact us by submitting your questions through the Bold BI website or, if you already have an account, you can log in to submit your support question.