We are excited to announce to our customers that Bold BI is now available in the SurveyMonkey App Directory. This is a win for our mutual customers as it will help deliver them an informed view of their metrics, giving them accurate information about survey analysis performance.
What is SurveyMonkey?
SurveyMonkey is an online survey platform that is used to collect opinions and responses from a targeted audience. It is the most flexible method of conducting surveys as it provides in-depth analysis tools for any survey data. Organizations need SurveyMonkey in their business to help them make smarter decisions as the surveys provide insight about employees, brands, and current customers.
What is Bold BI?
Bold BI is a business intelligence dashboard and analytics software for creating, managing, and sharing interactive business dashboards with users anywhere in the world. It allows you to create an attractive dashboard using SurveyMonkey data to track all the survey metrics and KPIs you require in one place, helping you identify actionable insights and make smarter business decisions.
Integrating SurveyMonkey data with Bold BI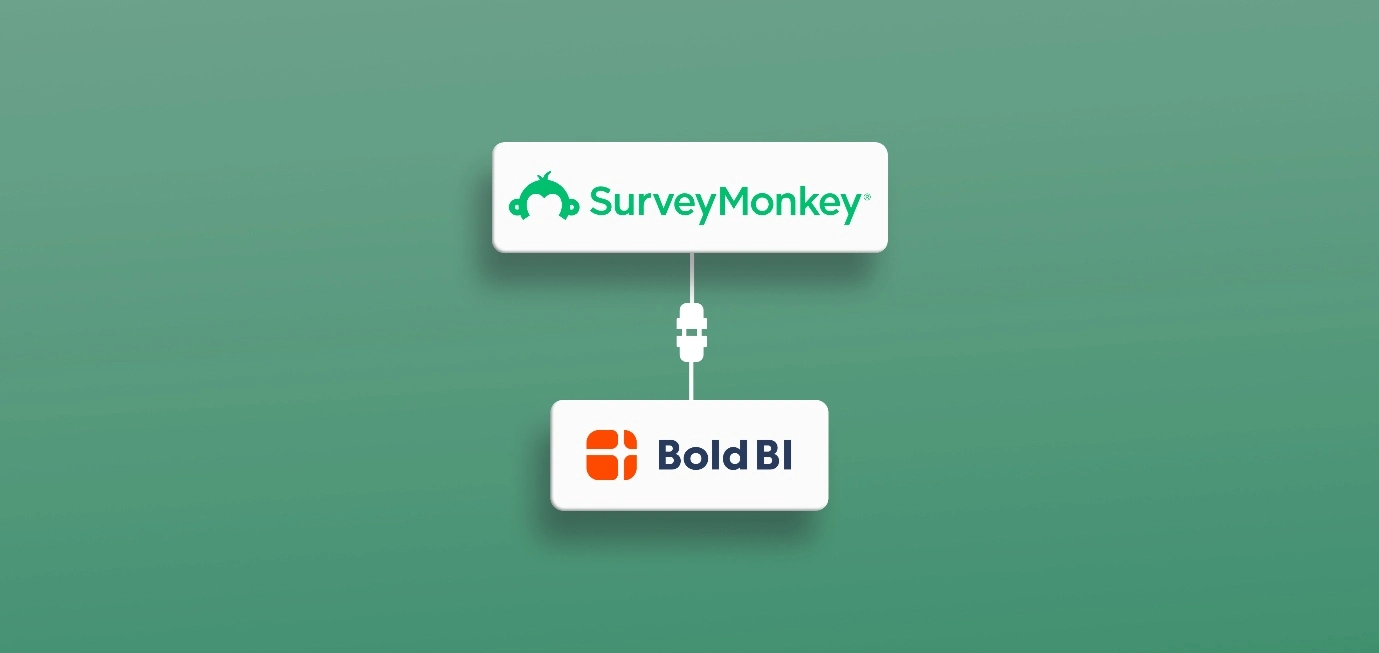 You can connect SurveyMonkey data with Bold BI through the SurveyMonkey data connector. To create a SurveyMonkey data source from the dashboard designer, click Data Sources in the configuration panel and select SurveyMonkey in the Data Sources listing panel.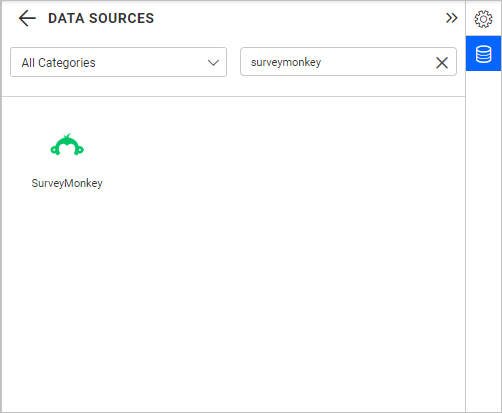 Use the steps in this documentation to finish creating the SurveyMonkey data source in Bold BI.
Benefits of integrating SurveyMonkey data with Bold BI
There are three major benefits to integrating SurveyMonkey data with Bold BI.
Scheduled data synchronization
Once the data is brought out of the primary system, it becomes your responsibility to keep the data updated, which requires some additional effort. Bold BI avoids this overhead. When SurveyMonkey data is connected to Bold BI, updates can be scheduled to pull up-to-date data to the dashboard at regular time intervals.
40 different widgets to showcase KPIs
Every KPI has a unique characteristic, each of which can be showcased through appropriate visuals to make them easier to understand for the targeted audience. Bold BI has 40 different widgets to choose from, including slicers and charts, so you can select the one that best suits your information.
Join with other data services for combined insights
In Bold BI, you can integrate SurveyMonkey data with other integrations like Salesforce, HubSpot, or MailChimp and create dashboards for in-depth analysis.
Combining SurveyMonkey data with Salesforce data lets you explore the effectiveness of surveys in converting respondents to qualified leads.
By integrating SurveyMonkey with HubSpot data, you can track survey data giving accurate information on survey emails sent, delivered, opened, completed the surveys, and more.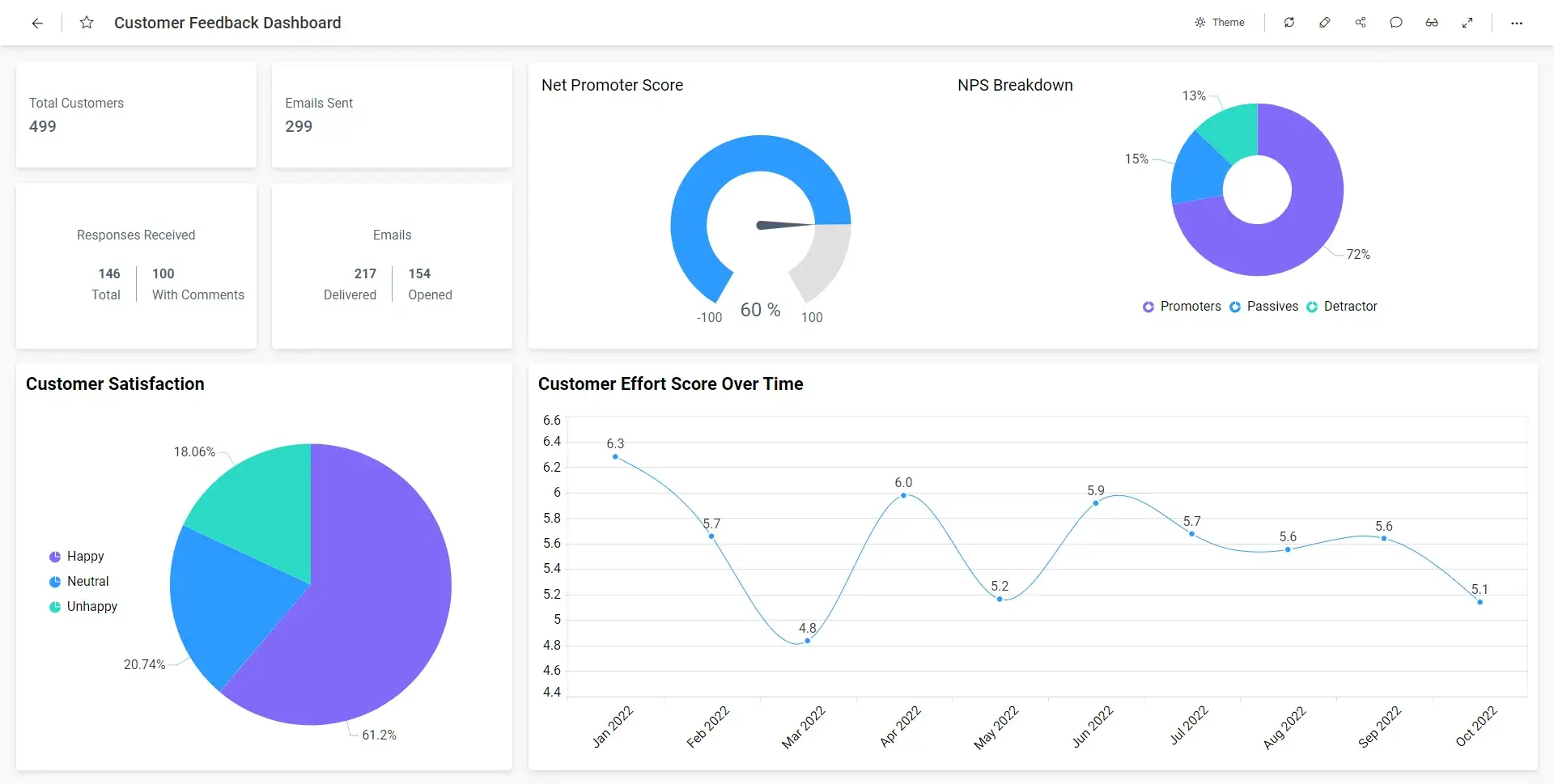 By integrating SurveyMonkey data with MailChimp, you can classify your contacts into different groups based on their interaction with your surveys to help you obtain a clear picture of your customers' perception of your products.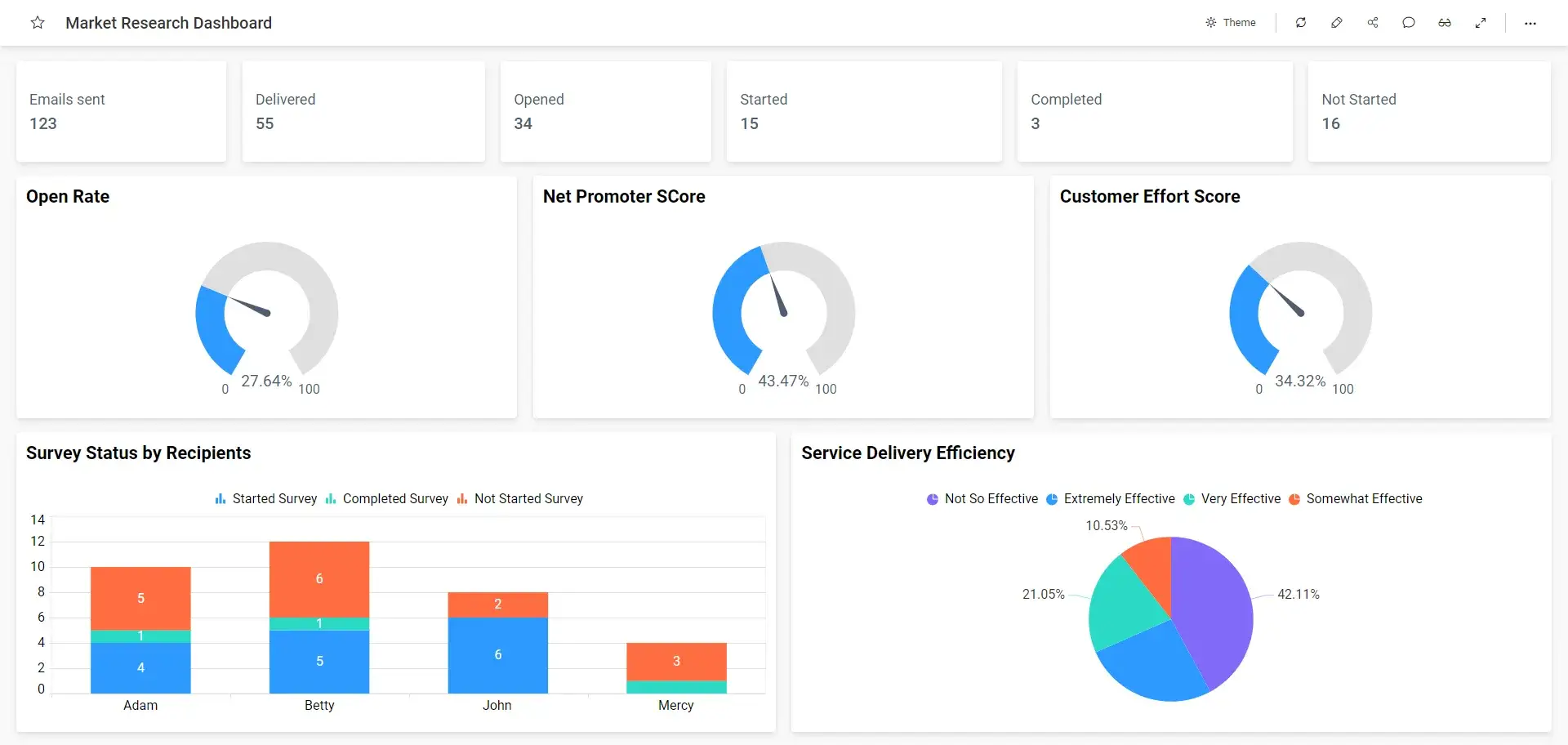 SurveyMonkey Overview Dashboard
The Bold BI SurveyMonkey Overview Dashboard grants you deeper insight into surveys created and their performance.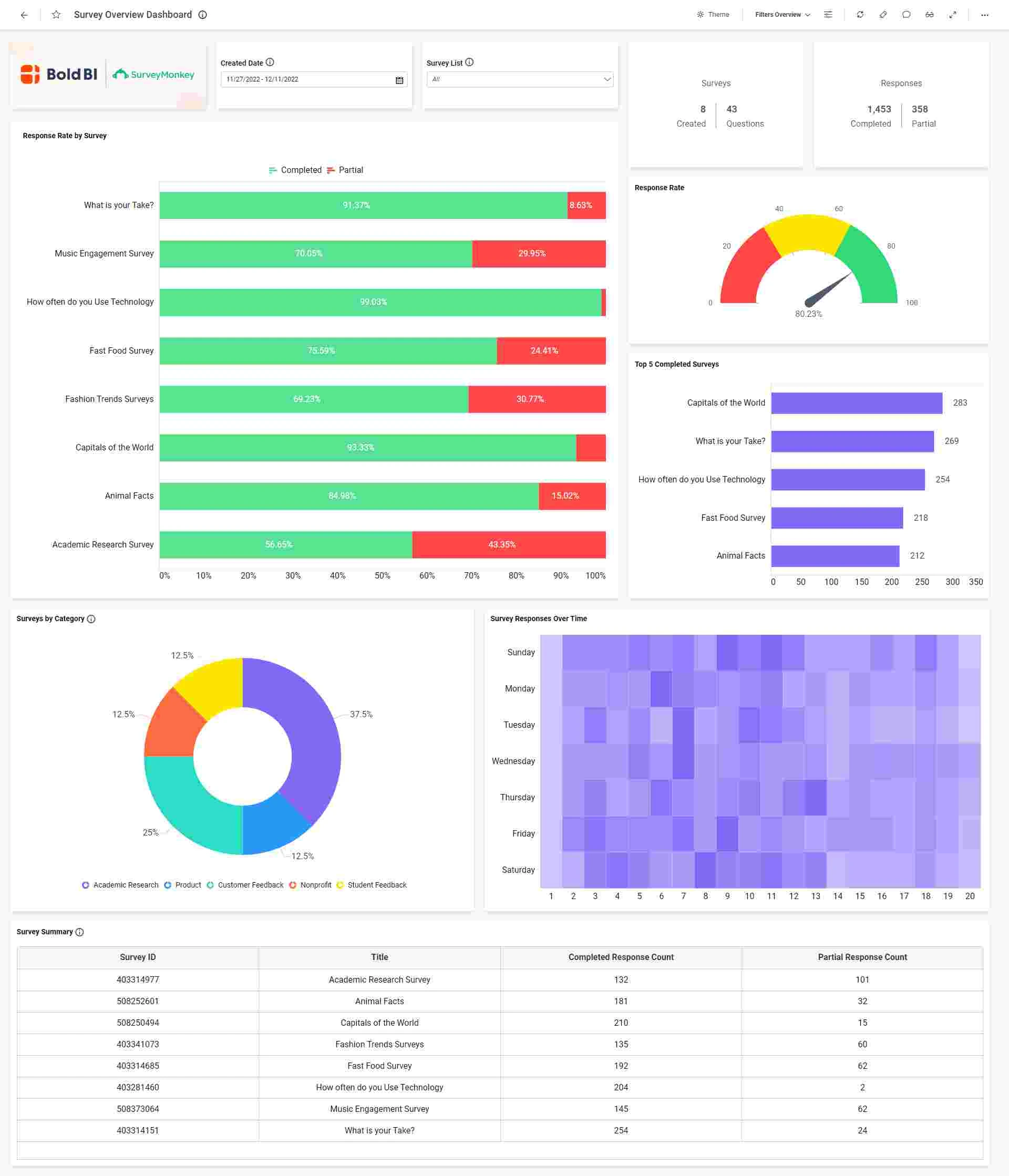 The following are the key performance indicators in Bold BI's SurveyMonkey Overview Dashboard:
Surveys and responses over time.
Response rate and status of surveys.
Surveys by category.
Top completed surveys based on responses.
Survey summary details.
With Bold BI, you can set up SurveyMonkey dashboards and accompanying data analytics in your workplace as a large screen slideshow on TVs and monitors in conference rooms or common areas—wherever managers, team members, and colleagues need to be able to see the information at the same time.
You can also embed a SurveyMonkey dashboard in your website or application to have an accurate picture of your employees, customers, and brand performance in real time.
Check out the link for the Bold BI listing on the SurveyMonkey app directory!
If you have any questions on this blog post, please feel free to post them in the comment section below.
Give it a try
Get started with Bold BI and try if for free and create interactive dashboards. You can contact us by submitting questions through the Bold BI website or, if you already have an account, you can log in to submit your support question.