Education analytics has emerged as a crucial approach to data analysis that enables educators to easily gather valuable insights to enhance teaching and learning processes for educational success. By utilizing education analytics in government institutions, universities, and testing organizations, leaders can stay informed about student performance, identify areas where students require additional support, monitor student-teacher retention rates, and more. This enables them to make well-informed decisions that ultimately improve overall educational outcomes.
In this article, we will analyze the importance of education analytics and how they can help maximize the learning outcome.
What is education analytics?
Education analytics is a critical form of data analytics that involves collecting and analyzing data while learners actively participate in their learning process. It provides valuable insights and data-driven feedback that professionals can use to improve curriculum, teaching methods, and knowledge to achieve professional development goals.
Benefits of education analytics
Monitoring educational data gives crucial information about an institute's operational performance. Any learning center implementing this data in their daily application gains numerous benefits that can help them achieve positive results in many key areas, such as:
Ensuring overall student success
By consistently monitoring your educational data, you can quickly identify areas where students struggle in their academic subjects. This enables you to make informed decisions about effective strategies to address these challenges, thereby reducing the risk of student, teacher, or school failure, enhancing overall student success.
Fostering a data-driven mindset
Education analytics allows users to have distinct guidelines on improving their processes and operations. This justifies their decisions when formulating future strategies, allowing them to be data-driven during their decision-making across the entire institution.
Predicting student performance and achievement
Education analytics helps users predict students' future performance based on current data. This gives them insights into areas that require adjustments and enables them to take action that will boost the overall performance of the students.
Improving staff effectiveness
Education analytics helps colleges track staff progress towards goals, assess strengths or weaknesses, and develop effective teaching strategies to help students achieve their learning objectives.
Visualize learning activities
Education analytics monitors all activities taking place in the learning environment. This improves the visualization of relevant information you need to assist in improving learning motivation and leveraging learning efficiency.
Types of education analytics
The various types of education analytics include:
Predictive analytics: This type of education analytics refers to the use of data machine learning techniques to identify the likelihood of future outcomes based on historical data. It helps in predicting trends and outliers that may arise in an educational context.
Descriptive analytics: This is a type of education analytics focuses on analyzing and summarizing historical data to provide insights into past performance and trends, allowing educators to easily understand what has happened in the learning process.
Analytical diagnostics: This type of education analytics allows you to collect, analyze, and interpret various types of educational data to identify patterns and potential issues within the learning process in order to make informed decisions.
Prescriptive analytics: This type of education analytics helps professionals improve student learning, retention, engagement, and performance by providing adaptive feedback or recommendations.
Key metrics and indicators in education analytics
The following metrics and KPIs should be tracked and monitored to improve educational outcome.
Student achievement: This metric helps in measuring student performance on standardized tests, grades, and other assessments.
Attendance: Tracking and monitoring this metric provides an overview of student attendance, thus ensuring that students are regularly present in the classroom.
Dropout rates: This metric helps you learn the number of students who drop out of school in order to identify areas where interventions are needed.
Graduation rates: With this metric, you can see the percentage of students who graduated from high school or college within specific years.
Enrollment: Tracking this metric can help schools and universities plan for future growth or identify areas of concern.
Student engagement: Measuring student engagement identifies areas where students may be struggling or where they need additional support.
Administrative spending per student: With this metric, universities or colleges can easily calculate how much they are spending on administrative services on average for each enrolled student.
Students in accelerated programs: Tracking this metric enables universities to evaluate the total number of students taking advanced courses by year.
How education analytics works
Learning analytics works effectively in the following ways:
Data collection: Data collection is an important step in education analytics that allows users to measure and analyze accurate insights using standard validated techniques.
Data processing and integration: This is a very crucial step that involves cleaning and handling irrelevant data to facilitate better decisions and enhance accuracy and reliability of data.
Data analysis: This step is important, as it gives a detailed view of learners and their environment, thus making it easier for you to produce visual reports on the learning process.
Data integration: The data integration stage entails consolidating data from various sources to provide an overview of the learning process. This information is valuable for generating insights, guiding decision-making, and enhancing educational results for learners.
Reporting and visualization: This is where information gathered from data analysis is presented in report and dashboard formats to help administrators easily understand data and make correct decisions.
Best practices for education analytics implementation
The following best practices can help you implement education analytics in a way that supports teaching and learning outcomes and ultimately improves student success.
Define goals: Define clear goals and objectives for implementing analytics by determining what questions you want the data to answer and how the data will be used to improve teaching and learning outcomes.
Identify data sources: Identify the data sources required to meet your goals. Determine which data is most relevant, and the systems or processes that generate the data.
Ensure data quality: Conduct data quality checks to identify and resolve any data issues. This helps you use accurate, complete, and consistent data.
Choose the right analytics tools: Choose the right analytics tools to match your goals and data sources. Consider user interface, data visualization, and data processing capabilities.
Involve staff members: Involving your staff members in the analytics implementation process helps you seek their input and address their concerns.
Develop a data governance plan: Develop a data governance plan that outlines how data will be collected, stored, and managed. It should include policies on data security, privacy, and access.
Provide training and support: Provide training and support to users of the analytics tools to enable them to understand how to use the tools and interpret the data.
Monitor and evaluate: Monitor and evaluate the implementation of the analytics to ensure they are meeting their goals.
Communicate results: Communicate the results of the analytics to stakeholders to allow them to see their success and failures to build support and drive change.Top of Form
Challenges and limitations of analytics in education
Some of the limitations and challenges of education analytics include:
Emerging technology
The use of technologies in education to enhance collaboration and improve the quality of education has taken over the role of education analytics.
Learning environment optimization
The utilization of social education analytics to comprehend learners' motivations presents a challenge for education analytics.
Educational systems are complex
The adoption of education analytics faces challenges due to conflicting views within institutions, as some educators prioritize organizational efficiency and accountability, thus hindering effectiveness in the education sector.
Data quality
The use of incomplete or inaccurate information can affect the accuracy, reliability, and usability of the insights derived from the data, thus presenting a challenge to education analytics.
Lack of standardization
Education systems are often fragmented, with different schools, districts, and states using different data standards, making it difficult to compare and analyze data across different systems.
Limited access to data
Education analytics requires access to a broad range of data sources, including student performance data, attendance records, and demographic information.
The future of education analytics
The future of education analytics looks promising, with the potential to transform education and improve outcomes for students. Education analytics will continue to impact learning sectors in the following ways.
Data visualization: As the amount of data collected in education continues to grow, data visualization will become increasingly important. This will help educators better understand data and communicate insights to others.
Learning analytics standards: The development of standards and guidelines for learning analytics will become increasingly important, as it will help users ensure that data is collected and used ethically and that insights are accurate and reliable.
Personalized learning: Education analytics will continue to focus on personalized learning to help students learn at their own pace, based on their individual needs.
Predictive analytics: Predictive analytics will continue to help educators identify students who are at risk of dropping out, falling behind, or struggling in a particular subject.
The role of Bold BI in education analytics
Bold BI is a business intelligence and analytics platform that can be used in various industries, including education. It provides a range of features and tools that can help educational institutions analyze and visualize their data, gain insights, and make data-driven decisions.
Bold BI provides educational institutions with the tools and insights necessary to improve student performance and optimize resource allocation. By collaborating on data visualizations and insights, educators and administrators can work together more effectively to drive improvements in education.
Now, let's look at some of the real-time use cases of education analytics.
Real-time use cases of education analytics
Leveraging Bold BI in your education analytics enables you to engage with your data through a dashboard that is seamlessly integrated into your everyday applications. This lets you monitor your key metrics and KPIs in real-time and arrange routine reports as needed.
Examples of Bold BI's dashboards for the education industry include:
a) School Performance Dashboard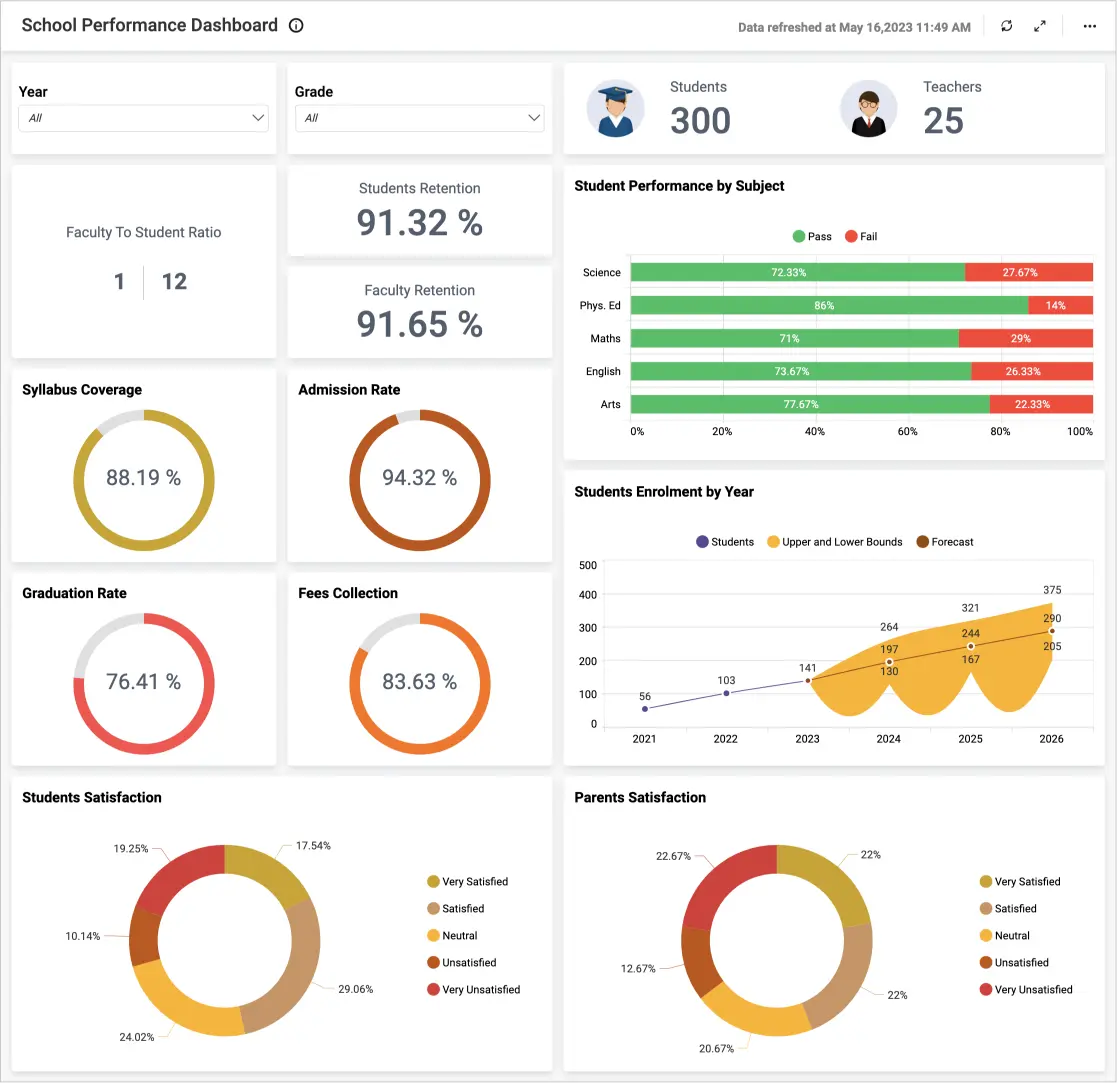 Bold BI's school performance dashboard allows administrators to gather results on the retention rate of students and faculty, enrollment changes in the last two academic years, exam results for students who have passed, failed, or not attended, and student-faculty ratio. This gives administrators insights into school management, and thus, allows them to make necessary adjustments quickly.
b) Student Performance Analysis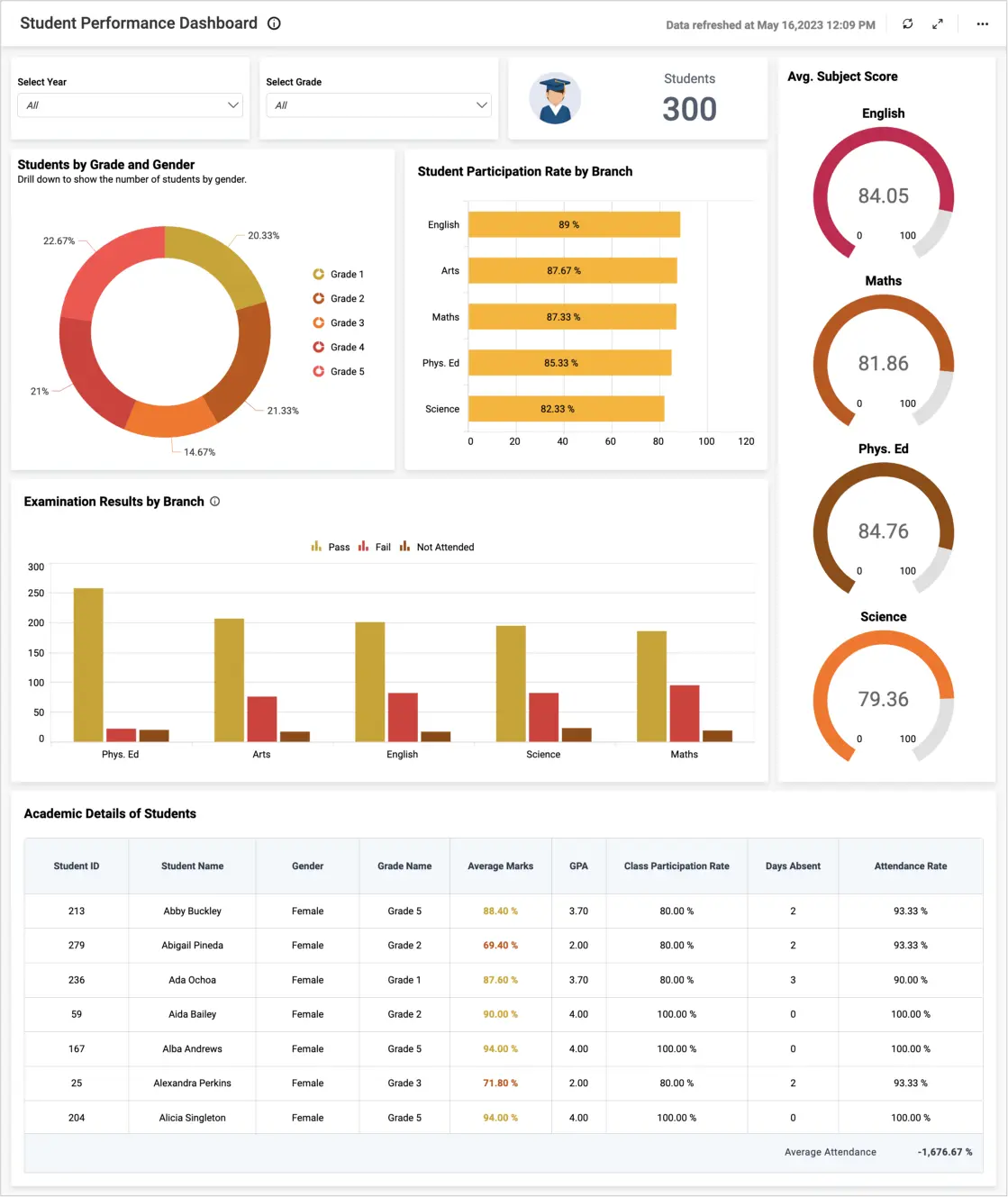 Bold BI's student performance analysis dashboard allows teachers to track crucial metrics giving them an overview of their students' details, such as students (male and female) by grade attendance, grades, exam results, and more.
c) K-12 Enrollment Dashboard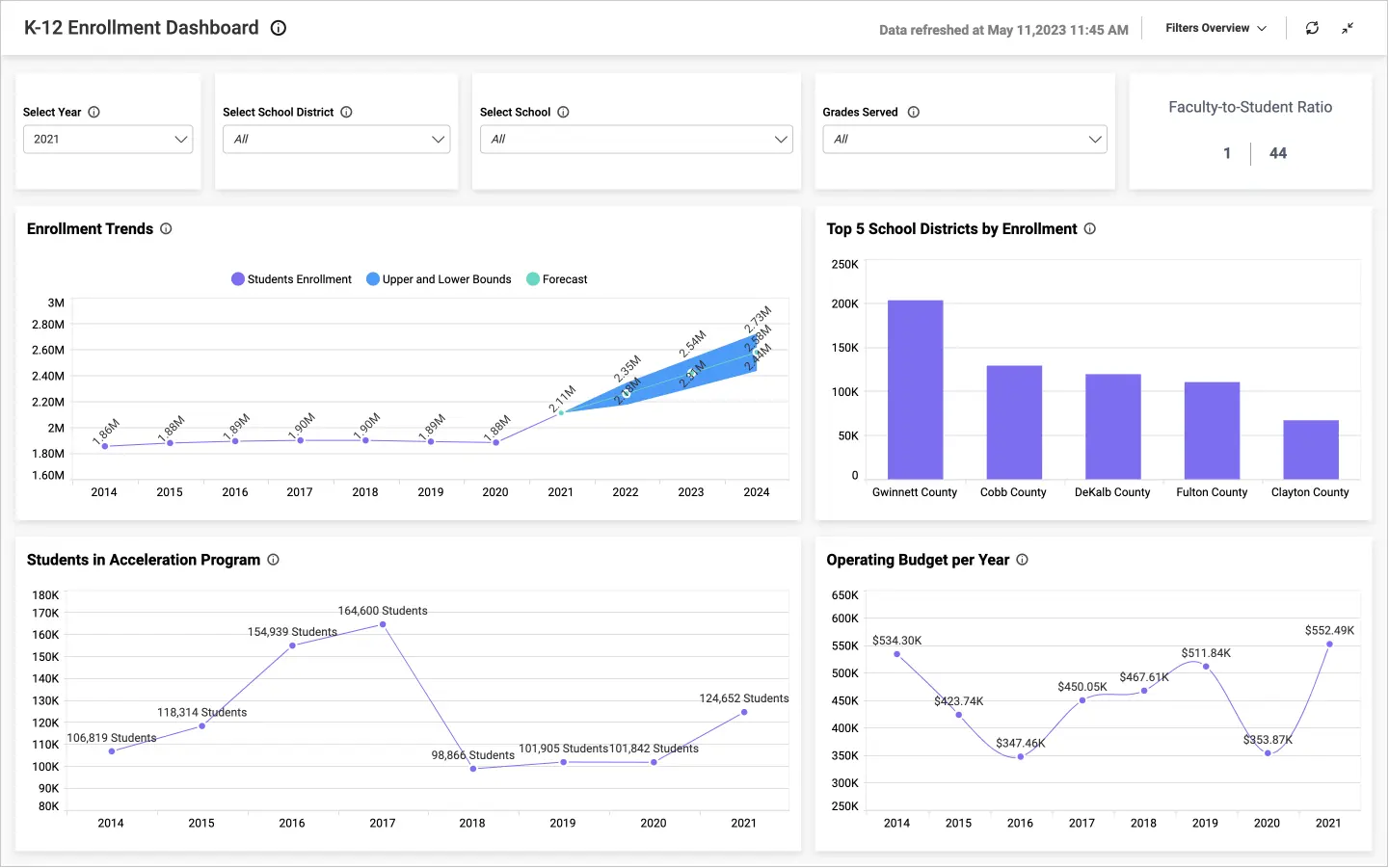 With Bold BI's education dashboard examples, administrators can track enrollment trends, advanced coursework data, budget details, and more. This helps them know about changes in each year's enrollment, the number of students taking advanced courses each year, and more.
Learn more about this Bold BI dashboard in this article.
d) Higher Education Enrollment and Retention Dashboard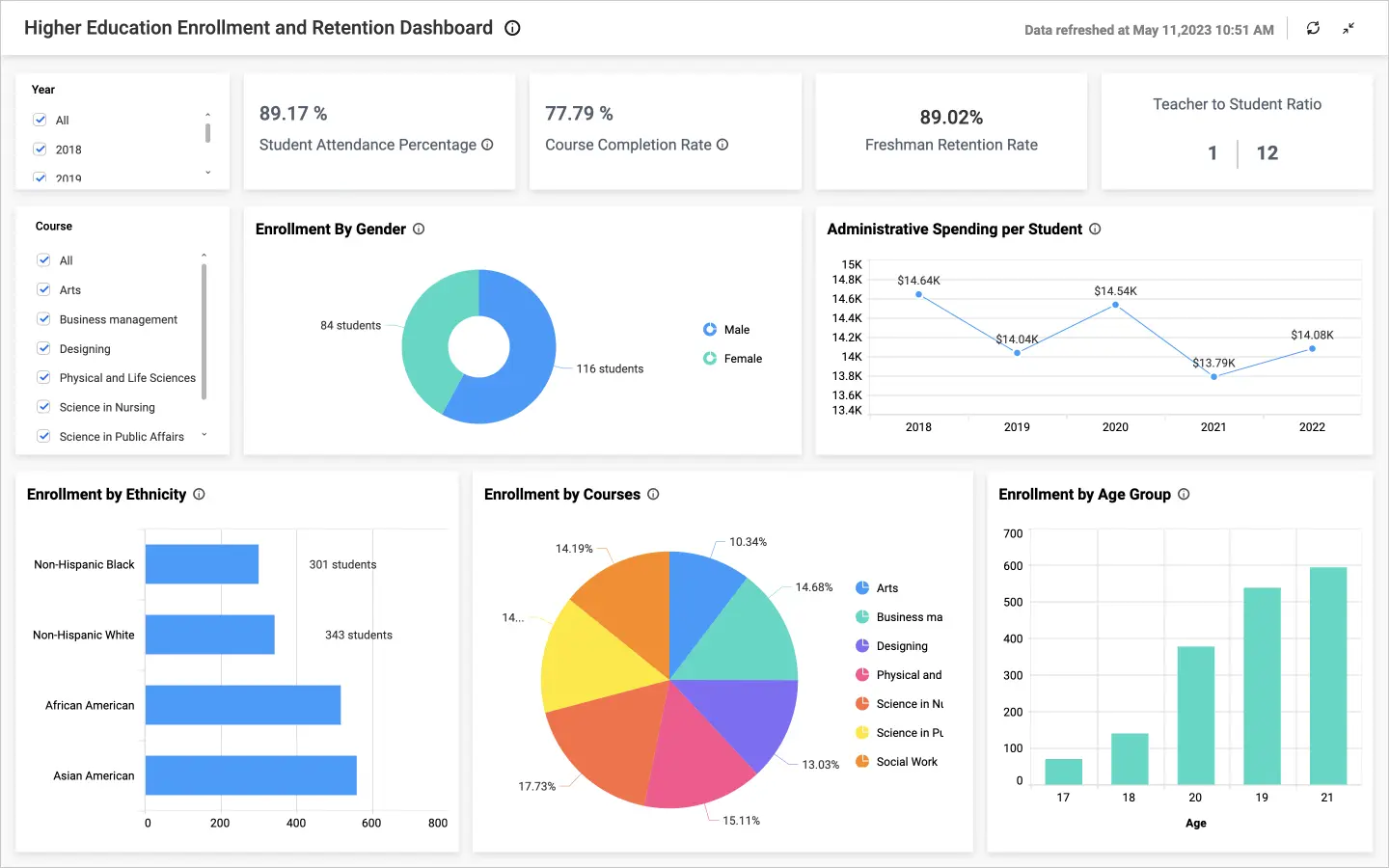 Bold BI's higher education enrollment and retention dashboard help administrators visualize important KPIs related to the enrollment of students in their colleges or universities based on their ethnicity, courses, gender, and age. It also helps them monitor key metrics and KPIs in the department to ensure equitable access to education, evaluate the effectiveness of policies and programs, and enhance overall institutional performance.
Check this article to learn more about this Bold BI dashboard example.
I hope this article helped you understand how leveraging education analytics can assist educators and institutions in improving academic performance and monitoring enrollment trends, thus increasing the retention and satisfaction of teachers and students and maximizing learning outcomes.