Introduction
Embedded analytics integrates business intelligence (BI) and analytics software into your business operation systems. This gives you actionable insights into your daily operational performance for more effective decision-making. Also, embedding analytical solutions within your website or application easily gives you access to all the relevant information you need about your customers' behaviors, your business's productivity, and your workforce's performance. This gives you a true picture of the overall status of your business, allowing you to easily recognize opportunities for growth, uncover useful insights and trends to help you formulate new ideas and better plans, and detect issues and solve them quickly as you move your business to the next level of productivity. In this blog post, you will learn what embedded analytics is, its benefits, and its important features as presented in Bold BI through the following topics:
What embedded analytics is
Embedded analytics is the integration of analytical solutions and data visualization capabilities into a software application's user interface to improve data comprehension and usability. Embedded analytics helps you visualize and interpret critical business data in dashboards and reports where you can easily track trends, make decisive business plans, and identify ways to boost productivity.
Embedded analytics vs. business intelligence
Both embedded analytics and business analytics take a company's data and transform it into useful insights that business users can depend on to identify approaches that work well in a given area, where improvements need to be made, what factors lead to specific changes, and much more. However, they are two different things. How is this possible?
BI is a set of technology, processes, and architecture that gathers data from a variety of sources to analyze, understand, and store it to help users make actionable decisions. With BI, you have to switch between your business applications and your BI tools to develop data insights and take action. On the other hand, embedded analytics integrates BI tools with your business applications, allowing you to put BI inside of an application to allow users to make data-driven decisions. Embedded analytics provides insights in the form of reports, dashboards, and analytics within your application, letting you take necessary action immediately.
Benefits of embedding analytics in your application
Embedding analytics directly into your application, websites, and products empowers your team to be more accurate in their decisions and predictions, and as a result improves customer relationships and trust. It allows your users to have all the relevant information they need from important company data sources in order to find the answers to their questions. The benefits of embedded analytics include:
Let's look into these in detail.
Encourages real-time decision-making

Embedded analytics can help you make real-time decisions by giving you the ability to analyze important data in real time from all the crucial areas of your company. This gives you an up-to-the-minute picture of everything happening in your business, empowering you to make quick and better business decisions faster.
Improves your competitive edge

With embedded analytics, you can analyze any type of data generated by your business to discover ways to cut costs, improve efficiency, acquire more customers—anything that could help the business grow. For example, you could analyze correlations between your marketing expenditures and customer acquisitions to identify which marketing strategies are the most effective. You could take a look at customer satisfaction surveys to identify and capitalize on reasons that customers chose you over all others. Such insights improve your daily operational activities and the overall profitability of the business.
Increases customer engagement and usage

Monitoring the results of your customer engagement campaigns using embedded analytics helps you know what your clients think about your brand, their value to your company, and common problems they experience when using your products. This helps you spot areas ripe for improvement and form strategies that can help you fix those issues quickly to increase your consumer retention and engagement in the long run.
Increases revenue performance

Using embedded analytics to dynamically report on your revenue performance allows you to easily compare results against your targets. This gives you the ability to examine where your business is falling short of its income goals and work with the data to make necessary adjustments, set future revenue goals more accurately, and dedicate more effort to increasing your revenue performance.
How embedded analytics is used
Since embedded analytics displays a company's key data and accompanying analysis in the form of reports and dashboards, it is mostly used by leaders to track the business's performance. Embedded analytics is often deployed in the following ways:
Internal tools: Users can embed analytics in their company's internal tools, such as finance, sales, or accounting software, to analyze and track data within the software itself instead of having to switch to an external analytics tool. This saves your team from the extra overhead and time costs of tracking and importing data from storage into the analytics tools daily or even multiple times per day.
Websites: Embedded analytics can be used to integrate analytics into existing websites to track and visualize data like the number of visitors, customers, and leads the website has produced. Embedded analytics can also be used to provide a better understanding of a customer's journey through a website, which helps in identifying content and site elements that match their interest. This helps website owners create engaging content and optimize their website for maximum engagement and conversion.
In-product: Embedded analytics allows you to easily place reports and dashboards in your products or platforms to explore all the data within them. This provides end users with the information and understanding they need to guide their decision-making on how to maximize their return on investment in your product.
Bold BI allows you to deploy dashboards anywhere you need: your organization's website, internal software, or customer-facing product. In our embedding analytics into your application step-by-step blog, we explain how to deploy embedded analytics with Bold BI and the factors to consider before choosing an embedded analytics solution.
Now, let's see Bold BI embedded analytics' key features.
Why choose Bold BI for embedded analytics
Bold BI is a powerful BI and analytics solution that allows you to glean insights from your complex data by visualizing it using a wide range of widgets and hundreds of data sources. Bold BI with embedded analytics allows users to easily discuss key metrics and KPIs with their colleagues to identify risks and understand trends, customize key features to meet application needs, and improve future outcomes. It has a variety of features that are suited for embedding to support operational intelligence leaders in their daily work. These key features include:
Customization
Customize embedded dashboard and widget feature settings such as dashboard header, refresh, export, maximize, and filter indicators using JavaScript member APIs. Easily switch dashboard themes between light, dark, and blue.
Row-level filtering
Create row-level filters based on the logged-in user of your dashboard. Depending on the user's permissions and role, a unique filter will be applied, showing only that user's data. For example, a CEO can see all their employees' details when logged in. Meanwhile, using the same dashboard, each employee will see only their own data when logged in.
Data binding
Data binding allows you to change the data connection of the embedded dashboard to a different one with same database schema at runtime. It also allows you to schedule auto refreshes to reflect the recent updates in the underlying data.
Event handling
With event handling, you can register and receive detailed access to events while rendering an embedded dashboard. This helps you to control the dashboard on your own terms.
Data security
Bold BI is precise when it comes to the safety of your data. Your data is under your complete control. Manage and grant access to users by configuring access settings and authenticating any new user. You can also integrate your security infrastructure seamlessly.
Easily embed an analytics solution into your company's application with many varieties of directory systems and protocols, such as single-sign-on authentication, OAuth 2.0, OpenID Connect, and Azure Active Directory.
Mobile app
Bold BI provides a mobile app feature that makes it suitable for embedded use. This mobile app can be customized and branded to meet the specific needs of your applications. You can use the mobile app to deliver critical information throughout your business.
Multiple development language support
Bold BI provides support for all regularly used development platforms both on the server and on clients, such as React with ASP.NET Core, React with Go, WinForms, Node.js, Vue with Go, Vue with ASP.NET Core, ASP.NET Core, ASP.NET MVC, Angular, ASP.NET, Ruby on Rails, Blazor with JavaScript, PHP with JavaScript, WPF, Xamarin, and Flutter with JavaScript.
Theming
Bold BI supports theming in embedded use, allowing you to apply specific visuals to the Bold BI user interface to make it seamless part of your application.
Data source manipulation APIs
Bold BI also provides data source manipulation APIs for embedded use that allow you to control exactly the data that needs to be exposed. This gives you precise control over how much or how little of your data sources you want to expose.
Custom UI and granular permission model
The custom UI and granular permission model in Bold BI enable full API access to the entire system. This enables you to access and display Bold BI elements and data within your application without using prebuilt Bold BI components.
More about these embedded analytics features are explained in the Bold BI features and embedded analytics features pages of our website. Check them out to learn more.
What are you waiting for? Get started with embedded BI on-premises or in the cloud now to embed dashboards for your clients into an application, monitor real-time data from a single page through interactive data visualizations, and reduce unwanted context switching between the application and your dashboards. Read our Getting Started with Embedded BI On-Premise and Cloud blog for more details.
Bold BI also helps customers rebrand their dashboard site in the Bold BI domain hosted on their own servers through white labeling. This helps companies add significantly powerful tooling to the product they serve to clients while preserving their branding and user experience. To learn more about custom branding and how to set up a custom domain in Bold BI, refer to our blog on Custom Branding a Dashboard App with Your Company Identity.
Now, let's look at how different industries can benefit from embedding analytics in their applications.
Embedded analytics examples in your industry
In our real-time dashboard examples, we demonstrate how embedded dashboards can benefit different industries, businesses, and organizations. Check them out to see firsthand how embedded analytics can help you visualize your critical business data in real time dashboards that track the story behind your data and help you make more effective business decisions. In the remainder of this blog, I will explain four examples.
Embedded analytics for marketing
Embedded analytics for marketing helps marketing analysts monitor the performance of their campaigns. The dashboard provides an overview of their marketing and corresponding sales performance, allowing them to easily track current market and sales trends, or products that are best sellers on the market.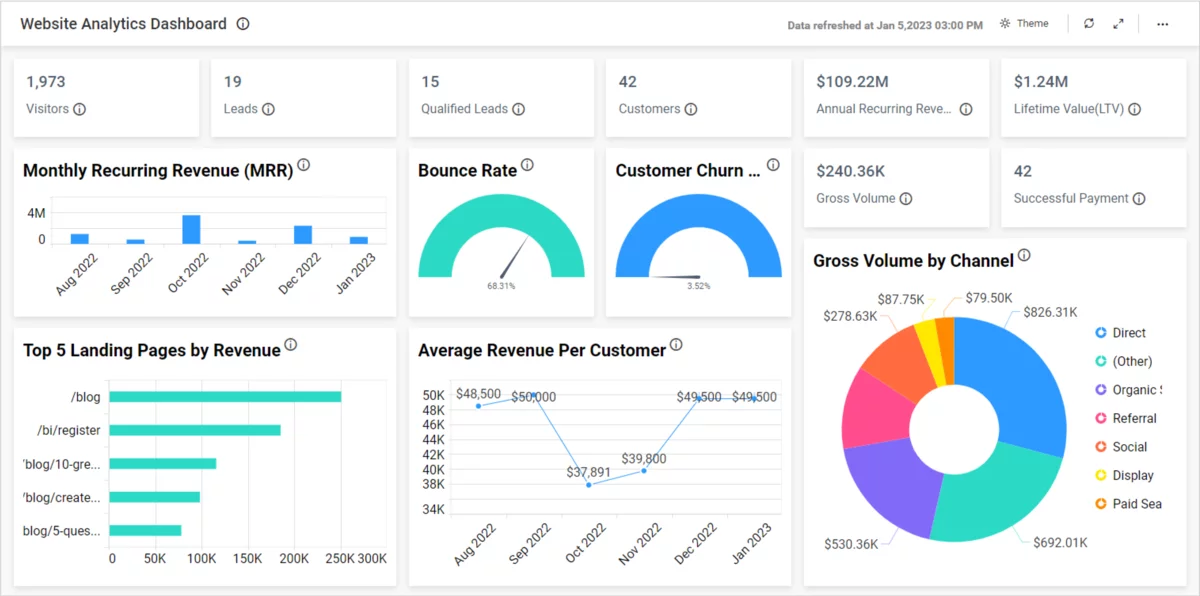 To learn more about embedded analytics for marketing departments, refer to our blog and dashboard example.
Embedded analytics for sales
Embedded analytics for sales departments help sales teams gain insight into their daily revenue performance through embedded sales dashboards. This enables managers to easily detect whether the business is on pace to meet its sales goals and form strategies that will help them increase their revenue and reduce financial risks in the long run.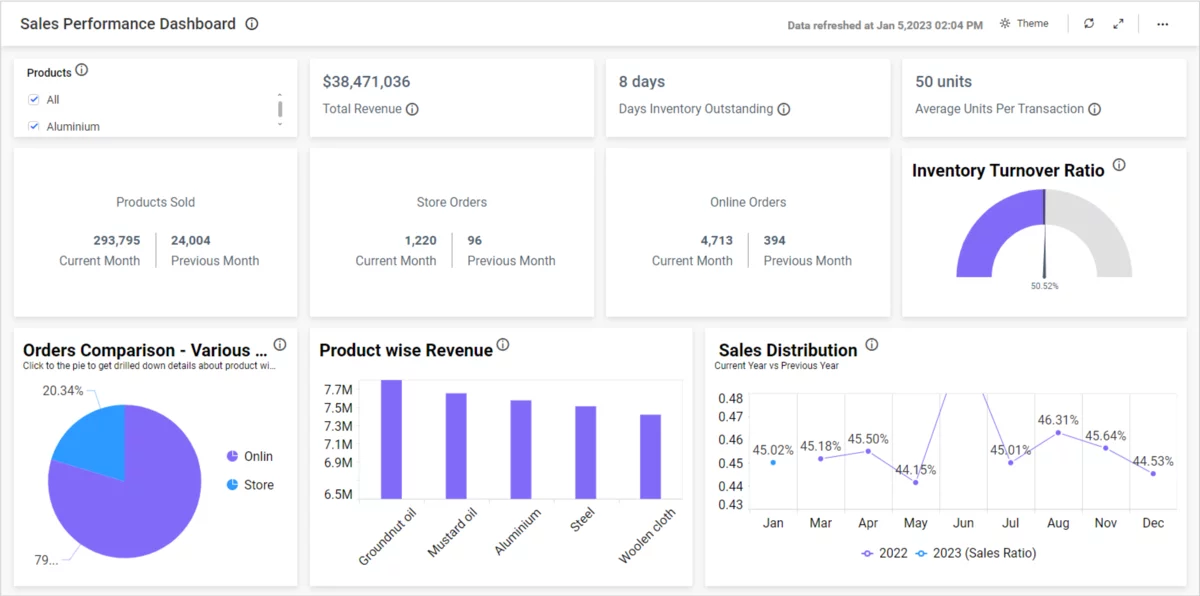 Check out our blog and dashboard example for more details.
Embedded analytics for the oil and gas industry
Embedded analytics for the oil and gas industry helps leaders monitor daily details about their wells' performance by displaying data in embedded dashboards. This allows them to have all the information they need about their wells at their fingertips, reducing the time spent tracking and monitoring each well's performance and status daily.
Learn more on our blog and browse the dashboard examples.
Embedded analytics for education
Embedded analytics for education assist instructors and administrators in examining strategic outcomes in their university by displaying their data in the embedded dashboards. This gives them visibility into their students' performance, attendance rates, test scores, and more, enabling them to spot areas that need adjustments.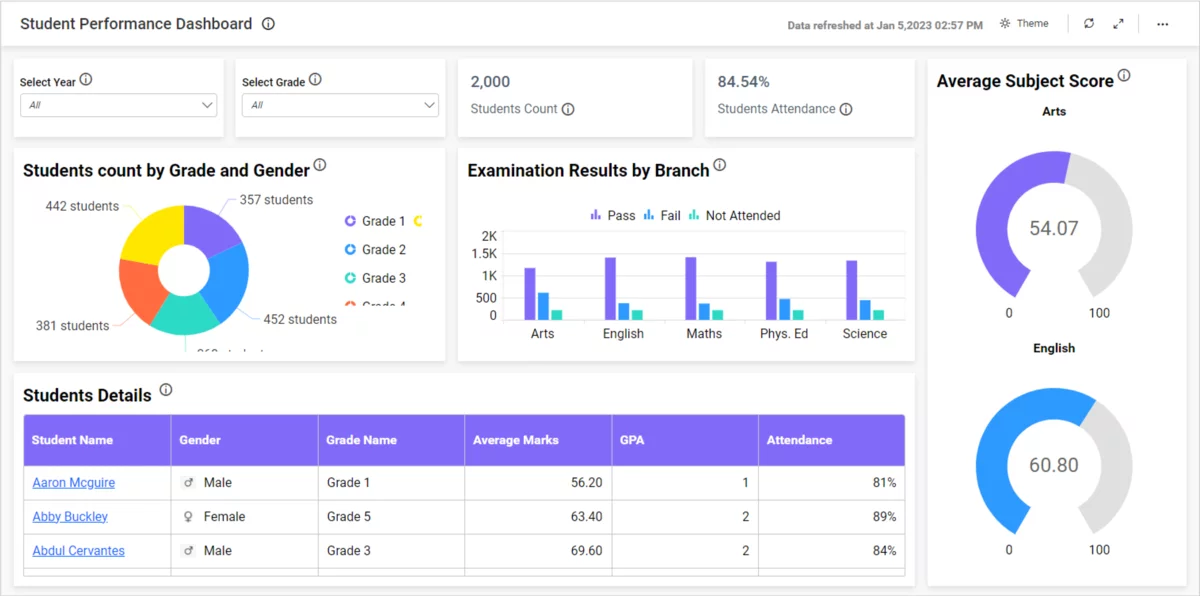 Check out our blog and dashboard example for more details.
Conclusion
Our embedded analytics evaluation guide provides insights that you can use to choose the right type of embedded analytics for your mission.
Now that you have learned what embedded analytics is, its benefits, and the unique benefits of Bold BI as an embedded solution, please feel free to post any questions you have in the comment section below. Get started with Bold BI for free and create interactive dashboards to see how your business can benefit from a seamless analytics solution right inside your enterprise apps. You can contact us through the Bold BI website or, if you already have an account, you can log in to submit your support question. Thanks for reading!