Introduction
High productivity is the desire of every business operator. For this to be achieved, they need to gain insight into the current situation of their businesses. Therefore, leaders strive to capture all their data in real time to know the actual performance of their business operations and evaluate adjustments that may need to be made. With real-time analytics, you can quickly collect, analyze, and view your current data. This increases the transparency of your processes, thus making your planning more dependable and sources of error more visible. In this blog, let's dive into real-time analytics.
Agenda:
What are real-time analytics?
Real-time analytics involve methods and technologies that collect, clean, analyze, and display data as it is being generated in the system. They enable you to view and assess your KPIs as the data for them flows into or is generated by your company in order to gain insights immediately and react without delay.
Who uses real-time analytics?
Real-time analytics are mainly used by companies to solve business problems by utilizing data insights to improve performance. For example:
Financial departments analyze real-time financial data in companies where capital flows in and out rapidly to avoid operating blind in terms of available cash and ability to pay debts.
Inventory teams detect trends and outliers in markets to help them maintain good stock control by improving the accuracy of inventory orders.
Loss prevention teams can implement strategies and observe their effect on theft and fraudulent activities immediately by monitoring real-time metrics.
Tracking real-time trends in market data helps generate accurate predictions about an event's effects as it plays out.
Benefits of real-time analytics
Real-time analysis can be of great benefit to your business. It provides the following advantages:
Supports smart decision-making

Analyzing your data as it happens makes it easier for you to gain quick insights into events that might affect your company. Necessary changes and improvements can be made more quickly in order to let you take advantage where you can, such as of a temporary drop in price on raw materials you need. Other times, a rapid drop in sales can alert you to a problem, perhaps with your website, and you can make quick decisions to investigate and mitigate it.
Helps prioritize work

With real-time analytics, your customer support team can clearly see when tickets are created and monitor the volume of each priority level. This helps them better organize ticket assignment and solve the issues based on priority. As a result, clients will be more enthusiastic about the services they receive from the company, as those with urgent issues will not wait long before they are fully served.
Enhances risk control

Monitoring real-time analytics gives you early warning for issues in your ongoing activities before they become serious, irreversible, or costly. This gives you more time to devise the best method to mitigate the issue and keep your firm running healthily.
Improves productivity

Real-time data shows the current performance of a department. Business operators can easily monitor the metrics to see current investments that are less productive. This enables them to make the necessary adjustments using these insights to ensure all around productivity.
Enhances inventory management

Monitoring real-time analysis allows you to have an up-to-date picture of your inventory performance. It provides an easy way of identifying items with quick turnover and immediate market trends. Using this information, inventory managers can keep up with inventory at hand to ensure that best-selling products are always available in the store and cooling products are being manufactured less.
4 tips to consider when implementing real-time analytics
To successfully implement real-time analytics in company, you need to do the following.
Understand your company's needs
Understanding your company's needs when it comes to real-time analytics informs how you implement them. You should know who will use them and how, what questions you want them to answer, and where the data for them is.
Identify data sources
Identifying the precise data sources and the type of data you need to analyze is one of the first steps to implementing real-time analytics. You need to know where you will extract your data from and connect all your sources. This lets you gain all the information relevant to your needs.
Build your data infrastructure
Data infrastructure is technology that provides the foundation for real-time analytics. It facilitates the collection, management, storage, and access to their data. To successfully implement real-time analytics, you need to build your data infrastructure first.
Choose the best real-time analytics tool
Now that you know what you need from analytics software, it is time to shop for it. When choosing real-time analytic tools, look for a flexible tool to make it easier for your teams to adapt to new changes, connect to all the necessary data sources, and scale as needed. Real-time data analytics tools should be easy to use for employees with little tech knowledge and produce attractive visuals for your metrics.
Bold BI enables you to integrate real-time analytics and data visualization capabilities into your business applications in order to improve data comprehension and usability. It allows you to present your data in a form that lets your audience see for themselves the current trends and outliers you're talking about. They make decisions and predictions based on the most current information.
Why choose Bold BI for real-time analytics
Bold BI is a powerful business intelligence tool for creating and sharing interactive, analytical dashboards. It helps users transform huge amounts of complex, unshaped data into useful metrics displayed on user-friendly dashboards. Evaluating the dashboard's widgets leads to better, data-based business decisions.
Let's look at some of the Bold BI features that make it so advantageous to utilize.
Data visualization
Bold BI provides 35+ widgets to analyze your data, such as bar graphs, pie charts, and maps. Other features include drill-down abilities, linking to other dashboards, templates, customization, tabbed dashboards, and more. You can visualize your data exactly how you need it delivered to the right people.
Data connectivity
For any analytics deployment to be successful, you should be able to connect to all kinds of business data. Bold BI makes it easy to connect to data in relational and SQL databases, data warehouses, REST API services, big data systems, and local files.
Predictive analytics
Display results from predictive models produced using other machine learning environments. Bold BI also offers integrated time-series support that helps you recognize seasonal changes and forecast trends.
Data security
With Bold BI, your data is always under your control. For instance, you can keep the entire product and all its data within your private data center or your public cloud account with absolutely no access provided to anyone except you. Row-level security allows you to maintain a single dashboard for all users while limiting access to the data within it.
Other features
Bold BI helps you easily embed an analytics solution into your business application with many essential features, such as automated provisioning for tenants and single sign-on with Office 365, OAuth 2.0, and OpenID integration. You can deploy on Windows, Docker, Linux, Kubernetes, and Azure App Service. It also allows you to collaborate with your colleagues on data analytics within your website or portal. Bold BI's embedding capabilities include frame embedding, JavaScript embedding, and white labeling. To learn more about Bold BI, check out its feature page.
Let's look at some Bold BI dashboard examples.
Bold BI real-time analytics dashboard examples
In our real-time dashboard use case examples, we demonstrate how Bold BI dashboards can benefit various industries by giving them a real-time view of their data.
Real Estate Management Dashboard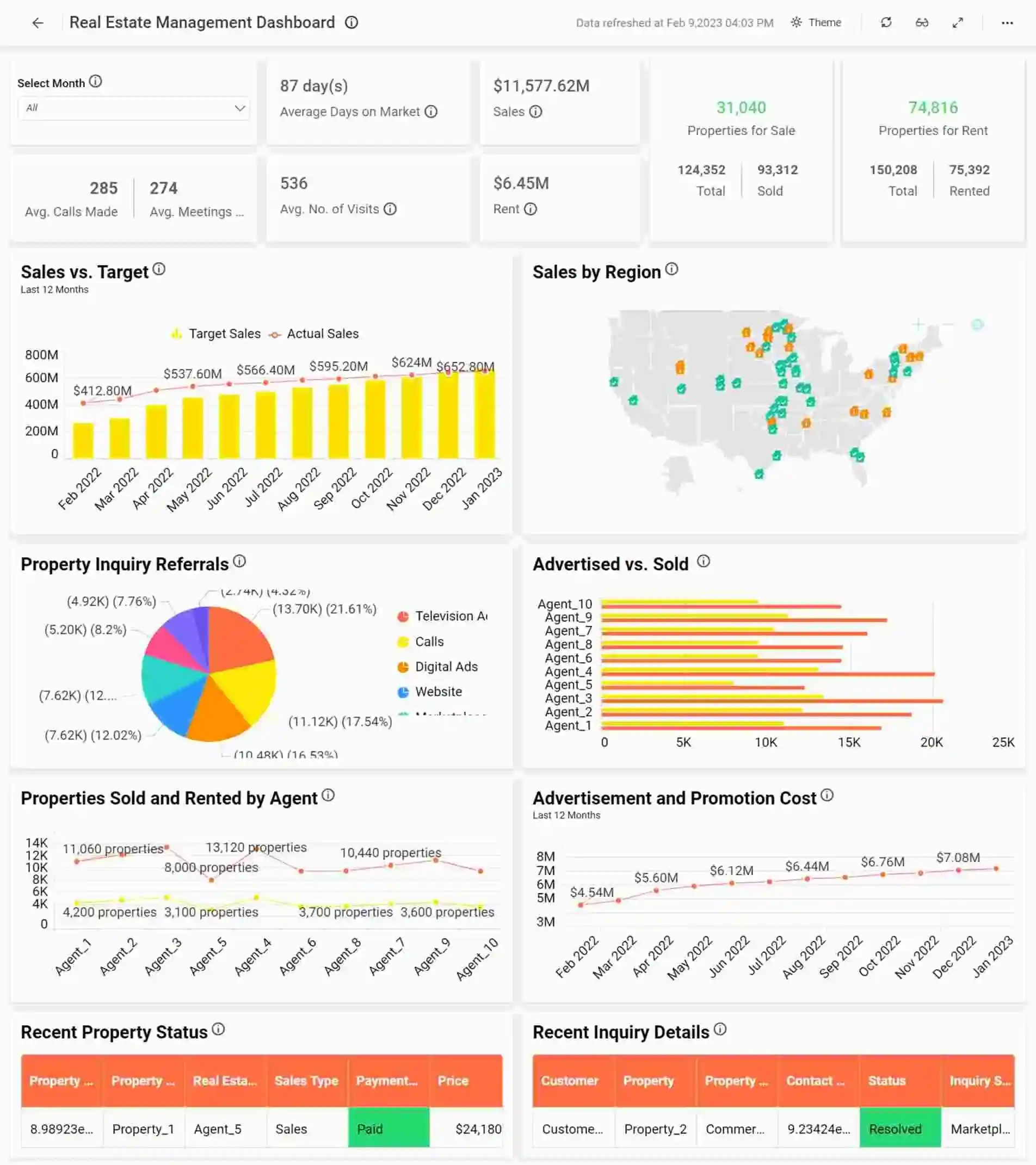 If you work in real estate, you can benefit from a real estate management dashboard by tracking and monitoring revenue, absorption rates, number of properties for sale, and more as they are updated in real time. This gives you insight into the status of the market, your finances, and sales performance as a whole, helping you make the right choices for the future.
Check out our blog and dashboard example to learn more.
Financial Performance Dashboard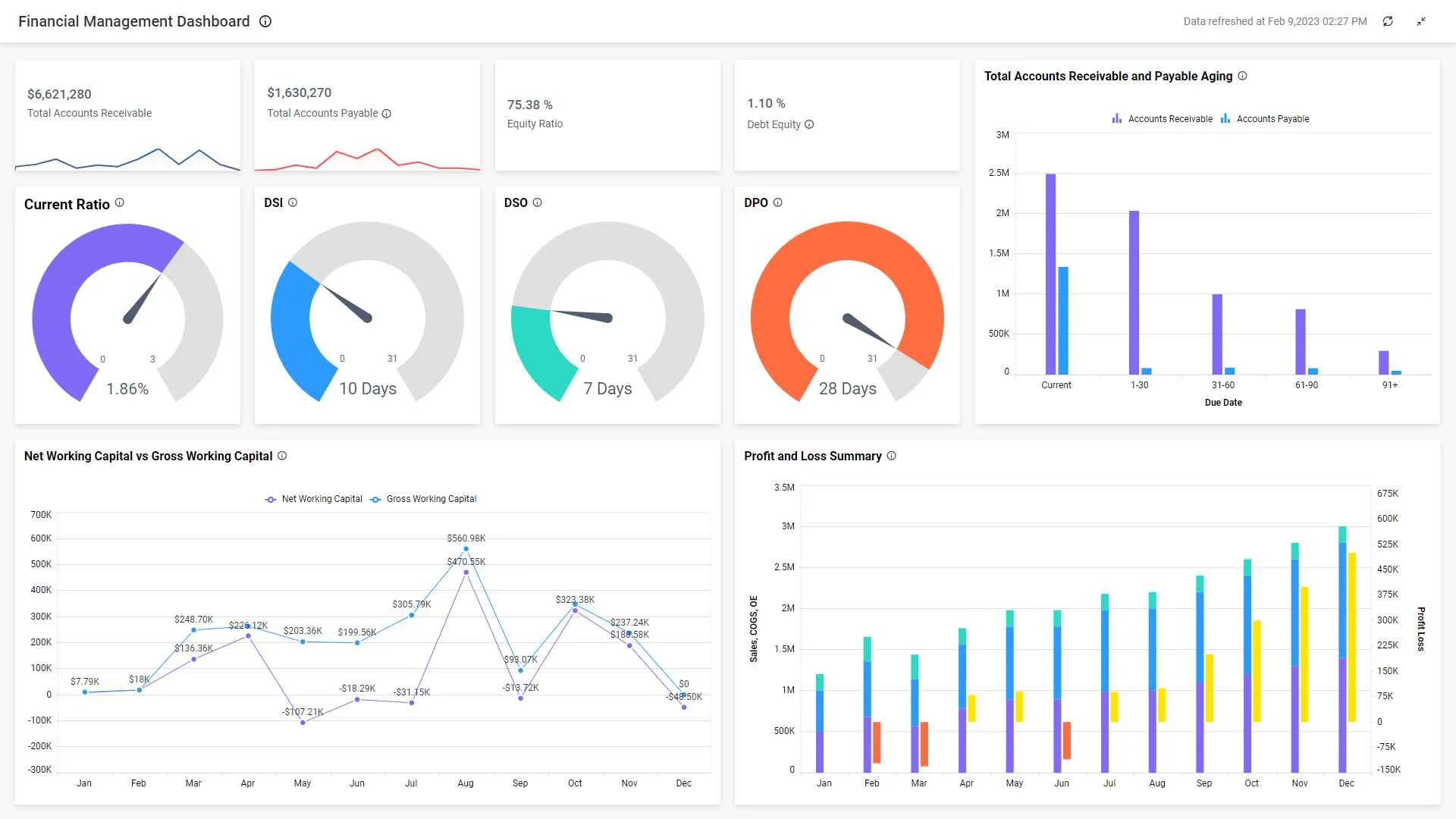 A financial analyst can benefit from a financial performance dashboard like this. They can track and examine their company's financial KPIs, such as total accounts receivable and payable aging, current ratio, and profit and loss summary. These figures give them insight into the health of the company's finances as they change day to day.
For more details, refer to this blog and dashboard example.
Sales Analysis Dashboard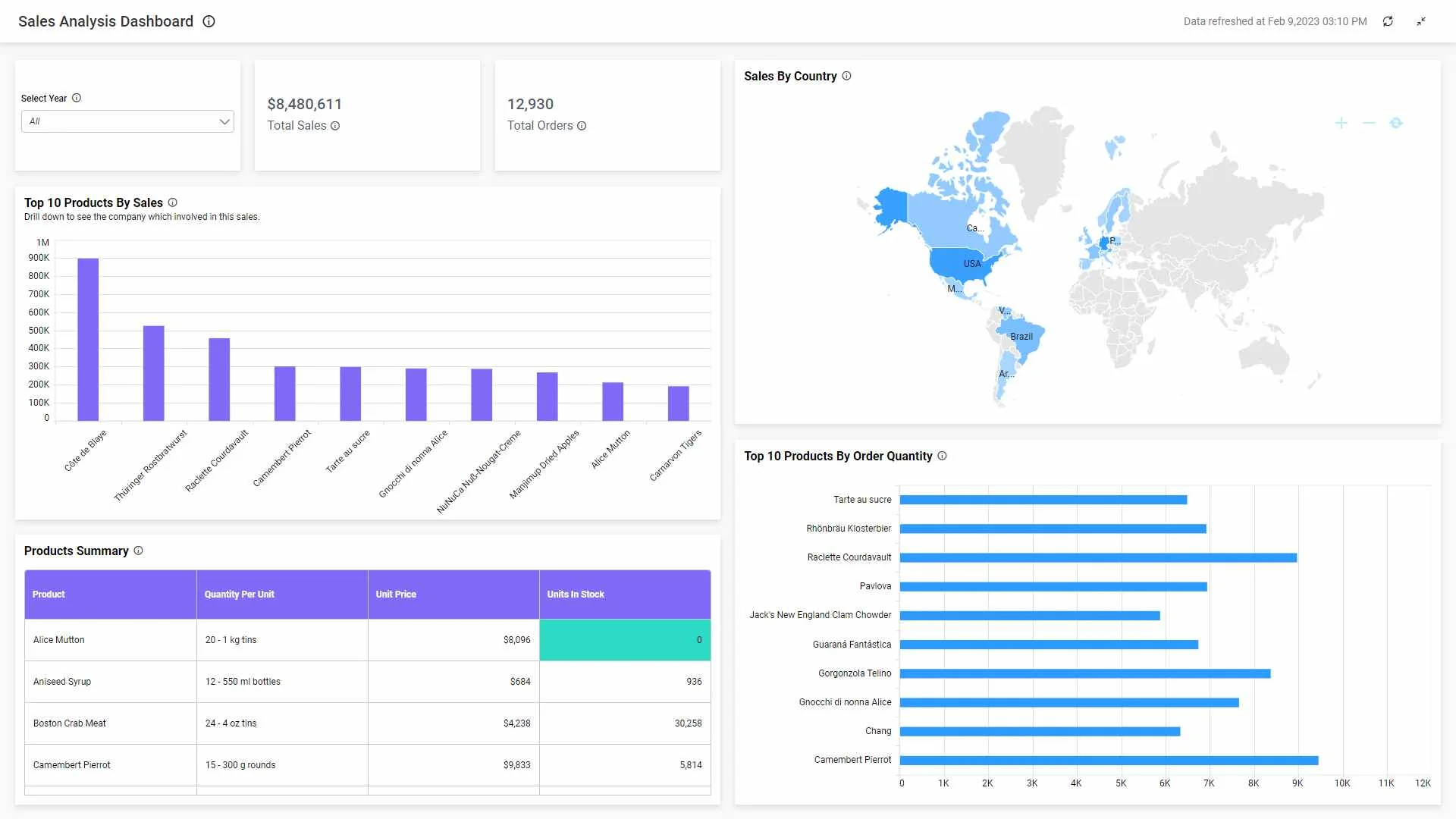 This sales analysis dashboard allows sales teams to track their total sales, total orders, sales by country, and more in real time. This makes it easier for marketing and sales teams to decide where to focus their outreach efforts as well as ensuring their inventory matches their customers' needs.
For more details, refer to this blog and dashboard example.
Property Management Dashboard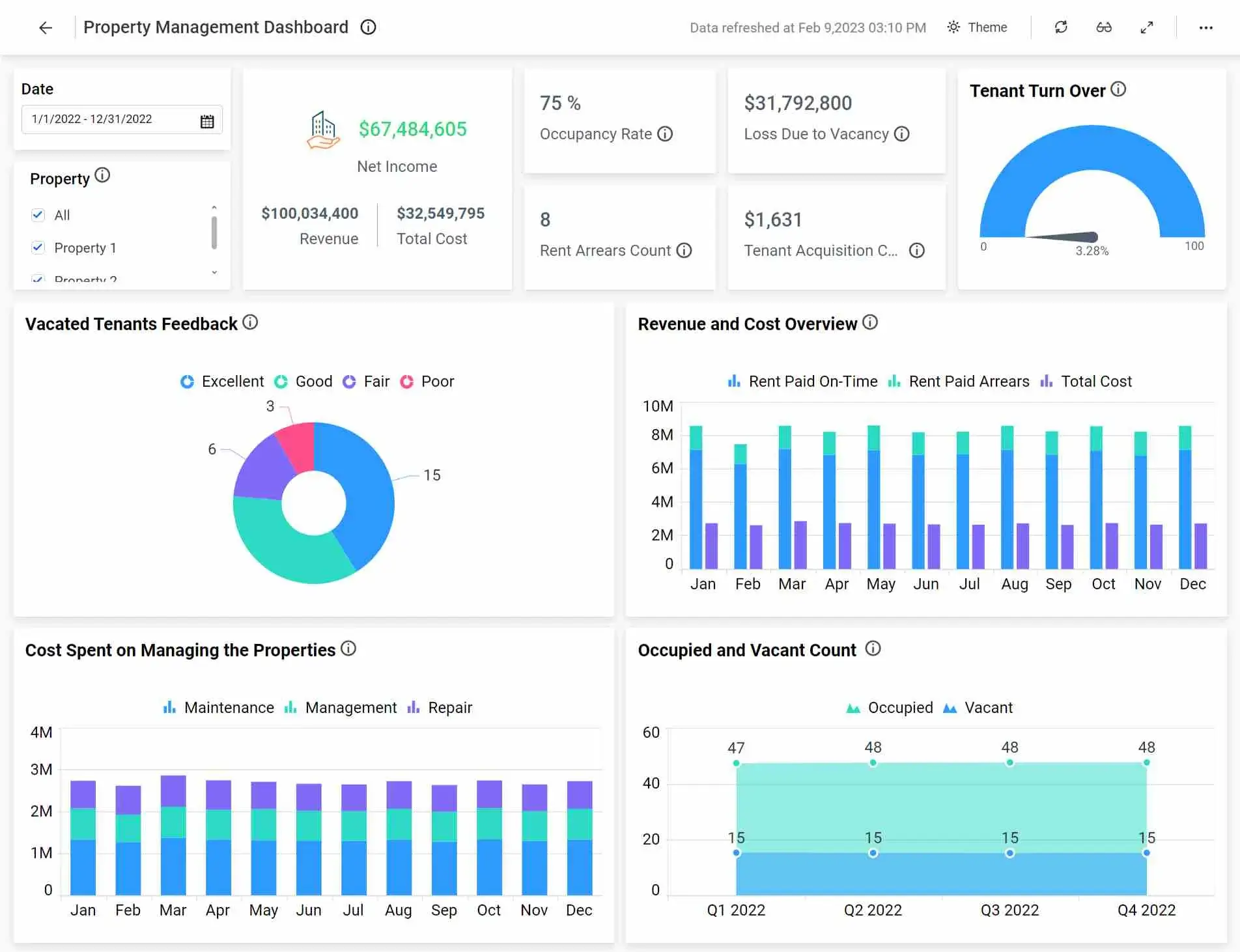 This property management dashboard helps property management companies to track and monitor their financial data, maintenance requests, and tenant data. This enables them to have accurate information about the company's current financial health and occupancy rates.
For more details, refer to this blog and dashboard example.
Conclusion
Real-time analytics with the right business intelligence architecture will give you insights that can help you make fast, data-driven decisions. If you have any questions on this blog, feel free to post them in the following comments section.
Try Bold BI for free and see how your business can benefit from a seamless analytics solution right inside your enterprise apps. You can contact us through the Bold BI website or, if you already have an account, you can log in to submit a question.