To manage IT operations, most service providers have a dedicated team to ensure both support and management services are driven appropriately. To stay on track, such teams should have a clear focus on their day-to-day activities and how they impact the business, areas where the team can improve, and whether each action is in pursuit of the team vision. As an IT operations team manager, there are four important IT operations metrics that help you track these through KPIs (key performance indicators):
Response time
Response time is one of the major key metrics in support services. A timely response is very important for customers who have submitted a support query. How quickly you respond to your customers can greatly affect how they feel about your product. It also gives them the confidence that someone is there to hear their problem and provide a fix. To track the response time metric, the following KPIs are useful:
Total support tickets submitted.
Breakdown of support tickets by status.
Average resolution time for a ticket.
These KPIs will help you estimate the response time for queries and reveal other factors that influence it. In addition, allowing you to determine where improvements can be made.
Server availability
Server availability is a key metric mainly for infrastructure service providers. They should assure high availability of servers in service level agreements (SLAs) to their customers who are running their applications in production. This is one of the major deciding factors for customers when choosing a hosted infrastructure. The availability percentage should be calculated based on the monthly and yearly downtime measurements, and service credits must be given in monthly billing cycles based on the SLA terms. Therefore, IT operations teams must keep track of this and in case of any failures like power outages, hard disk failures, etc., they should have replacements in place to switch to immediately to avoid downtime. Even if a server goes down, the downtime should be within the limit specified in the SLA.
Project expenses
Project expenses are another important metric to track. The expenses should include all kinds of costs (e.g., material costs, labor costs, infrastructure costs) involved in supporting a project directly or indirectly. The tracking doesn't just end with fund allocation. Expense handling by departments also needs to be tracked to find whether expenses are crossing a planned limit for any reason. If certain expenses are greater than anticipated, the manager must take prompt action to ensure cooperation on both the customer end and the company end. To track project expenses, the following key performance indicators are useful:
Funds allocated and billed.
Monthly expenses by department.
Yearly revenue and investments.
Customer satisfaction
Customer satisfaction is a good measure of product quality, customer service, and company reputation in the market. Meeting customer expectations should be the primary objective for any project. Any failure will have an indirect effect on other operations of the company. Therefore it is necessary to monitor this metric and ensure there is no decrease in customer satisfaction level. If customer satisfaction drops, it should be addressed immediately. Customer satisfaction rating base on delivered product quality and service quality is a suitable KPI for predicting customer satisfaction.
Check out this live dashboard example based on a support ticket management system using Bold BI. It provides a detailed overview of the IT operations metrics through corresponding KPIs. An IT operations team manager can use this overview to monitor the status of the team's services.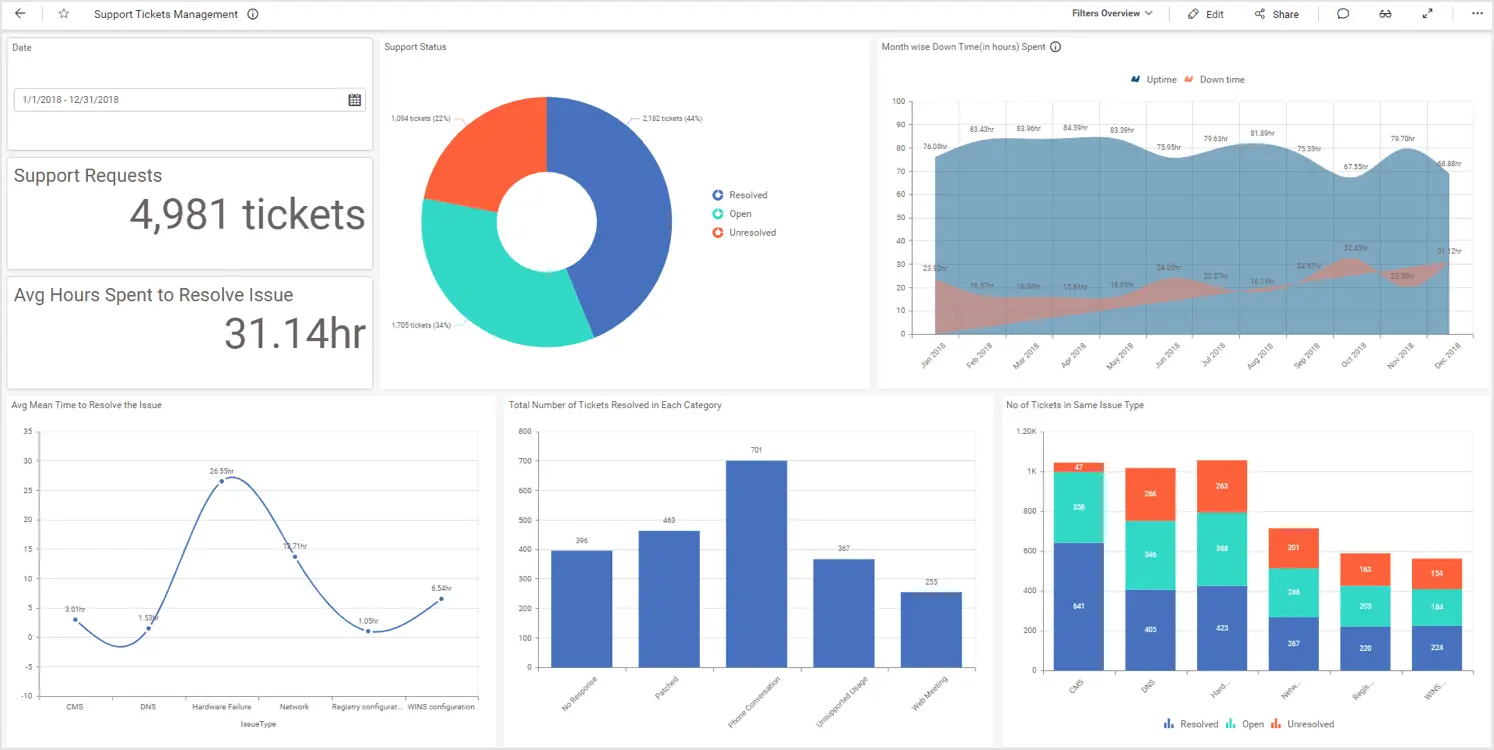 Here is another dashboard example on project management that outlines the financial health of an IT company. In addition, it displays a detailed breakdown of project expenses by department, project-based SLA statuses, revenue, and customer satisfaction.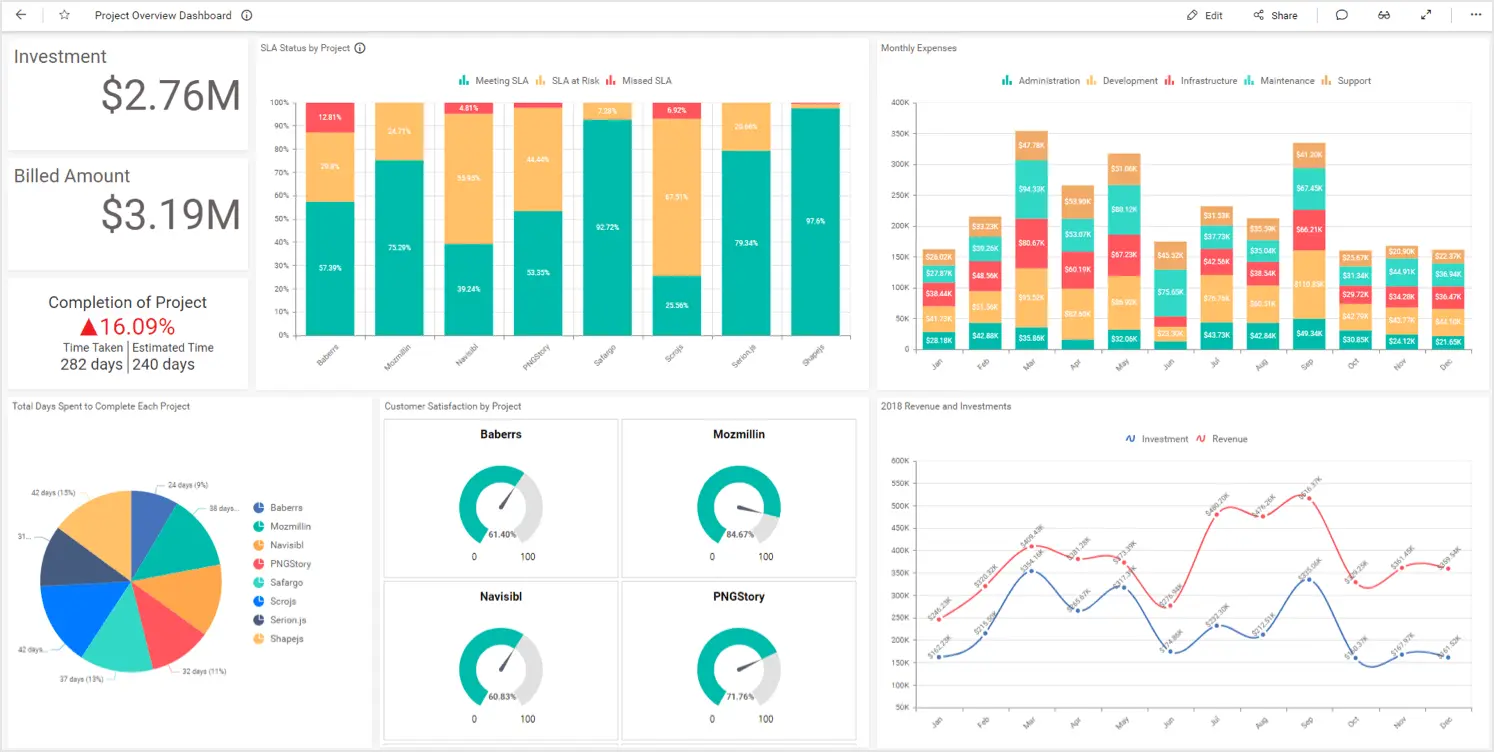 Conclusion
Customizable dashboards put the information you depend on at your fingertips, making it easy to track key performance indicators in real time. These can be utilized by an IT operations lead or manager who needs an overview of their team's day-to-day operations, and needs to track customer satisfaction while also analyzing the company's efficiency and profitability.
If you have any questions on this blog, please feel free to post them in the following comment section. Get started with Bold BI by signing up for a free 15-day trial and create more interactive business intelligence dashboards. You can also contact us by submitting your questions through the Bold BI website or, if you already have an account, you can log in to submit your support question.