In our fast-paced world, the sheer volume of appointments and meetings can be overwhelming for many businesspeople, leaving little room for error. Integrating your Microsoft Outlook Calendar with a versatile BI tool can help you understand and better plan your schedule. This blog will explore the benefits of implementing this kind of integration.
Advantages of using BI tools to showcase Outlook Calendar data
Using business intelligence (BI) tools to showcase Outlook Calendar data can provide several advantages for individuals and organizations:
Visual Insights: BI tools transform Outlook Calendar data into visually engaging charts and dashboards for easy pattern recognition and quick insights.
Informed Decisions: By analyzing calendar data with BI tools, individuals can make more informed decisions, understanding peak meeting times and improving time management.
Predictive Analytics: Outlook Calendar data can be used in BI tools to make forecasts and predictions, aiding in resource allocation and future scheduling.
Enhanced Collaboration: Sharing interactive calendar dashboards through BI tools improves collaboration in an office when it comes to coordinating schedules and anticipating appointments.
Data Integration: BI tools can combine data from multiple sources, offering a comprehensive view of schedules and related information.
Performance Monitoring: Users can track meeting metrics and analyze event outcomes to assess and improve time management.
Data Security: BI tools provide robust security features for protecting sensitive calendar data and controlling access.
How to choose a BI tool to showcase Outlook Calendar data
Choosing the right BI tool to showcase Outlook Calendar data involves considering several factors to ensure the tool meets your needs. Here are a few features to look for when making this decision:
User interface: The chosen tool should have an intuitive user interface. It should be easy to use, even for team members without extensive training.
Scalability: Choose a tool that can accommodate growing data volumes and additional data sources as your organization expands.
Community reviews: Research user reviews and case studies to learn from real-world experiences with the BI tool.
Accessibility: Select a BI tool that supports mobile devices, enabling data access and interaction on smartphones and tablets.
Collaborative features: Look for tools that facilitate team collaboration, including sharing reports and comments on metrics.
Cost: Define your budget and compare pricing models to calculate the total cost of a subscription.
Customer Support: Consider the availability of customer support, training resources, and user communities to get assistance when needed.
How to create a BI dashboard for visualizing Outlook Calendar data
Creating a BI dashboard for visualizing Outlook Calendar data involves several steps:
Select a BI Tool: Choose a BI tool compatible with Outlook Calendar for data integration.
Connect and Import Calendar Data: Establish a connection to your Outlook Calendar account within the chosen BI tool and import relevant calendar data, including event details.
Define Key Metrics and KPIs: Identify the important metrics and KPIs for analysis.
Design the Dashboard Layout: Plan the dashboard's organization and arrangement.
Create Visualizations and Apply Filters: Utilize the BI tool's features to create visual representations of the data and implement filters for user customization.
Incorporate Drill-Down Functionality and Time Comparisons: Enable detailed data exploration through drill-down capabilities and include options for comparing data over time.
Include Descriptive Text and Context: Provide explanations and context to guide users.
Implement Alerts and Notifications (optional): Set up notifications for critical events or when certain conditions are met.
Tracking Outlook Calendar event organization using BI dashboards
A BI dashboard provides real-time event management, enabling early problem detection and efficient resource utilization. These are a few KPIs to utilize with Outlook integration.
Events by Organizer
This metric tracks the number of events (meetings, appointments, etc.) organized by different individuals or teams within your organization. It helps identify who is scheduling the most events.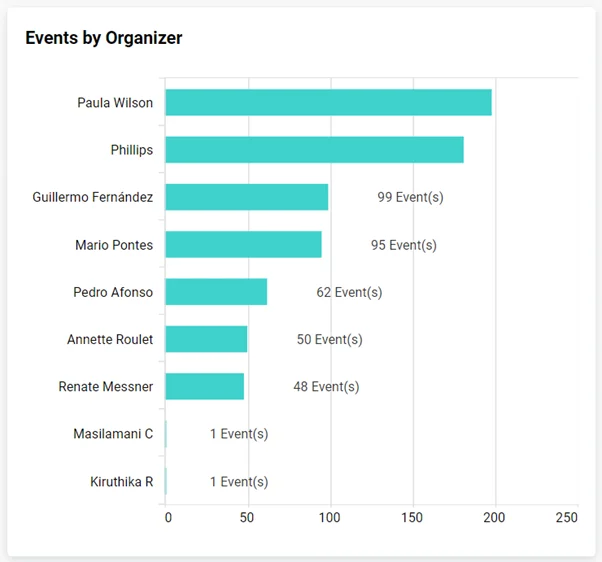 Events by Event Status
This metric categorizes events based on their status: tentatively accepted, accepted, no response, declined, or no status. It offers insight into the current size of your upcoming events and the level of interest in them.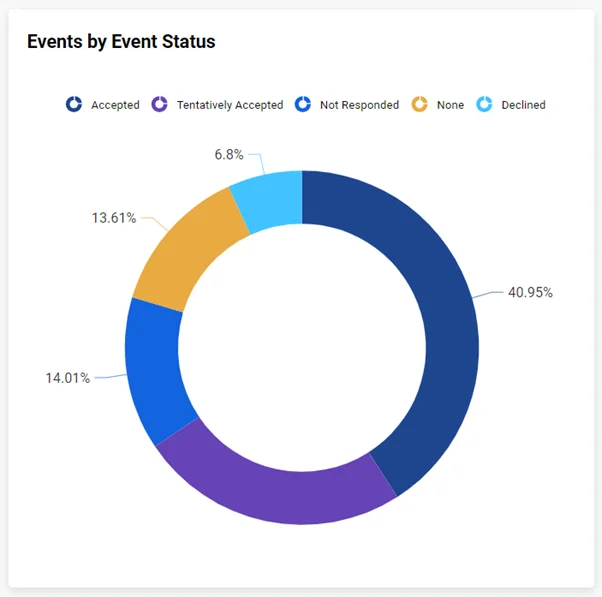 Events Cancellation Rate
This metric measures the percentage of canceled events compared to the scheduled events. This metric helps assess the reliability of event scheduling.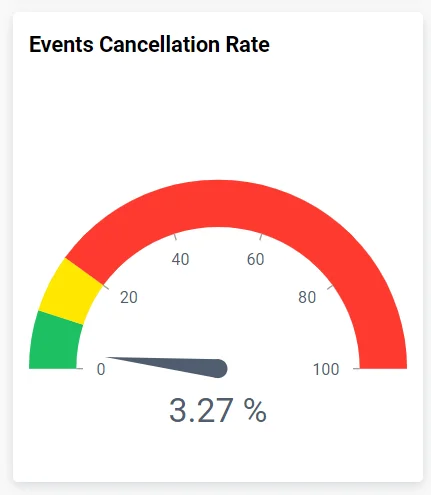 Top 5 Invitees and Their Responses
This metric identifies the five people invited to the most events and provides information about their invitation response rates. It helps in understanding key participants' engagement.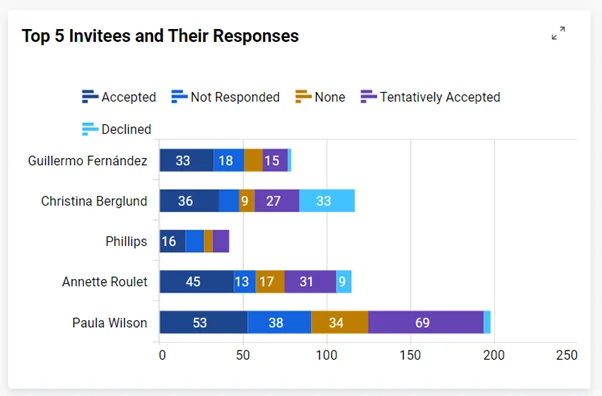 Events by Meeting Venue
This metric categorizes events based on the venues where they take place. It helps in tracking which venues you utilize most for events, whether in-office, virtual, or off-site.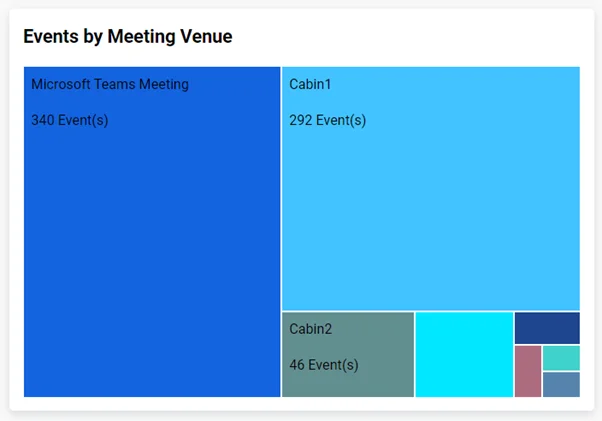 Scheduled Events Summary
This metric provides a concise summary of all scheduled events, including the total number of events, upcoming events, their types, and other relevant details, offering a quick snapshot of your calendar activities.

Tracking Outlook Calendar event organization using a BI dashboard can be a valuable way to gain insights into your scheduling and event management. Dashboards like the following Outlook Calendar Events Organizer Dashboard help manage event organization. It improves decision-making, time management, collaboration, organization, and event planning.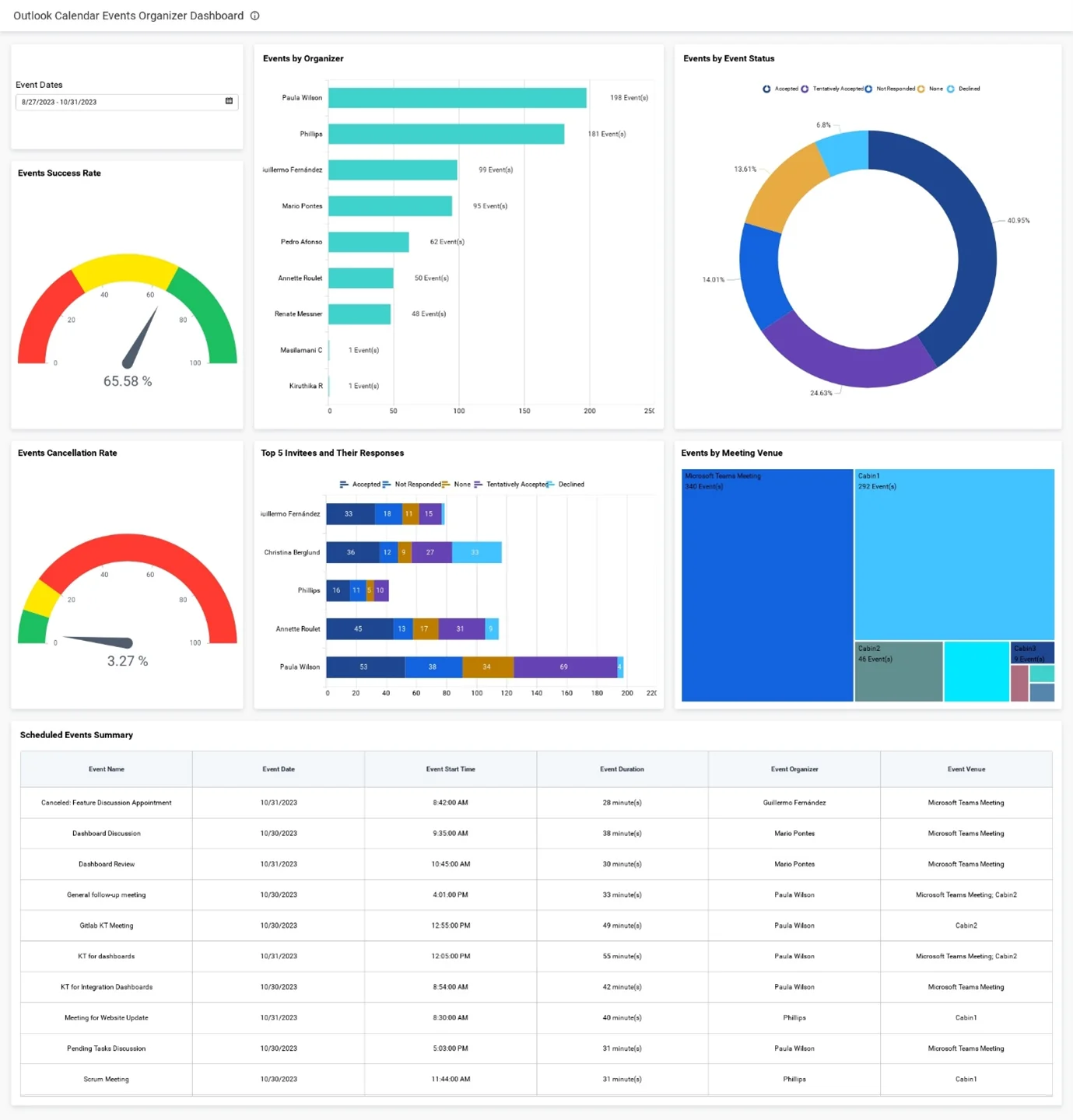 The previous dashboard was designed in Syncfusion's Bold BI. It presents metrics in a state-of-the-art dashboard interface for enhanced understanding and decision-making. This tool helps users stay organized, meet goals, and plan events efficiently.
In a world where time is a precious commodity, harnessing the potential of Outlook Calendar is a key to achieving maximum productivity. Take control of your schedule, and let it empower you to make the most of your day.