Intervals Project Management
Enjoy a complete overview of your team's task progress and overall project metrics.
The Intervals Project Management dashboard helps team members and managers organize, track, and measure the success of team projects and tasks. With this dashboard, we can answer the following questions:
First, what is our overall project and task status?

Second, are assignees managing their tasks and time well?

Finally, are we on target with our time estimates and logging enough billable hours?
Monitor Intervals Project Metrics
This embedded example of an Intervals project management dashboard makes it easy to track team progress at the task and project levels. Task and project widgets provide a variety of valuable KPIs, letting you identify critical tasks in a specific project. For instance, you can view tasks by cycle time, priority, module, and completion status. Also, an Incomplete Tasks by Status pie chart widget shows the breakdown of how many tasks are in each stage of completion. Identifying on hold, in progress, and other task statuses helps ensure work is moving forward.
In addition to viewing information at the task level, the Intervals dashboard helps project management at the employee level. One widget shows which employees have higher or lower amounts of incomplete tasks. Further, another widget visualizes the total hours tracked by each employee and compares billable to unbillable hours. This enables you to balance the workload of each employee and ensure productivity.
Finally, there are several widgets that show overall success through project and department metrics. One spline graph widget displays the overall billable hours by day. A trendline imposed on the spline graph gives a target for the average daily hours billed. Furthermore, the estimated vs. utilized Work Hours by Project and Hours by Milestone widgets identify gaps or inconsistencies in productivity. In conclusion, these widgets allow a more detailed study of each step in a project.
Filter for Increased Understanding 
The two filters on this dashboard are helpful to see every KPI by project or by milestone. This helps you see how different teams work on the same type of project. In short, showing KPIs for how a single step or phase of a project performs can give greater insight into a larger process.
Now that you've seen Bold BI's embedded dashboard example for project management, contact our sales team to learn more.
Start your free 15-day trial today
Information Technology Dashboard Examples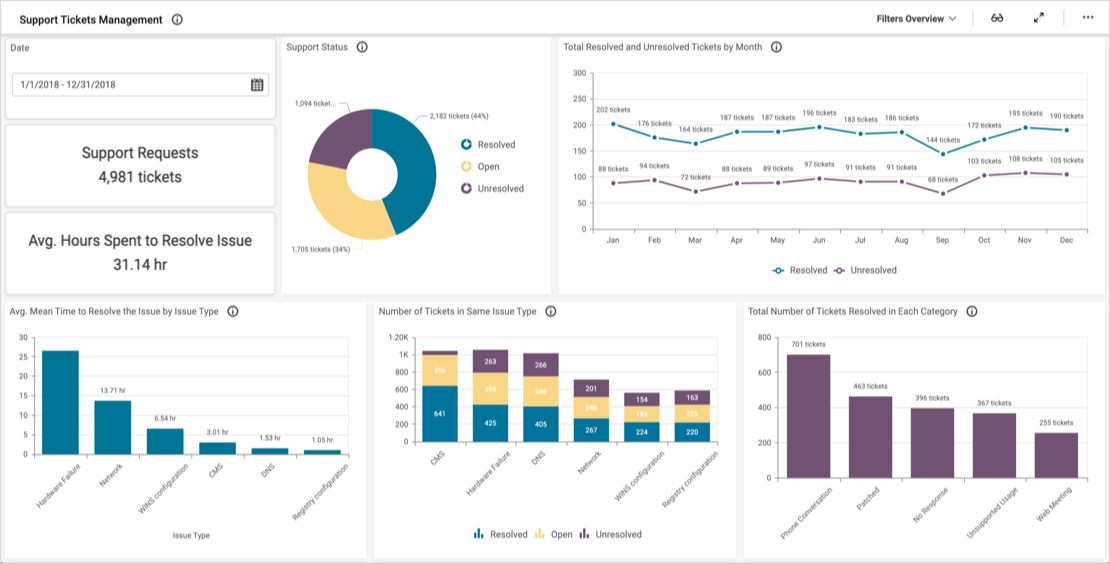 This customer service performance dashboard provides a detailed breakdown of an IT team's operations. With this dashboard…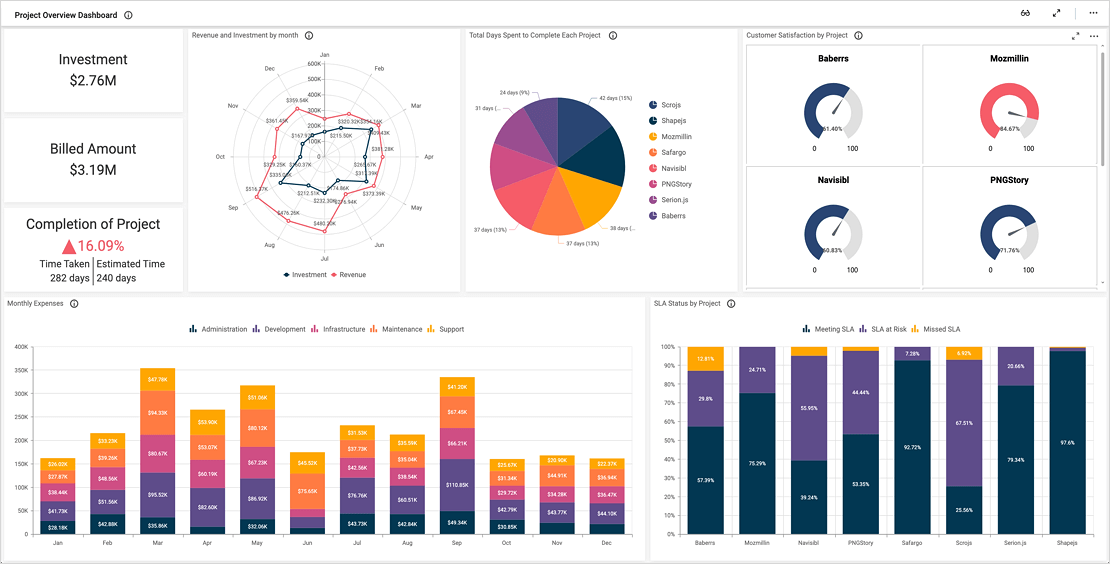 Bold BI's project management dashboard outlines the financial health of an IT company. Further, it displays detailed…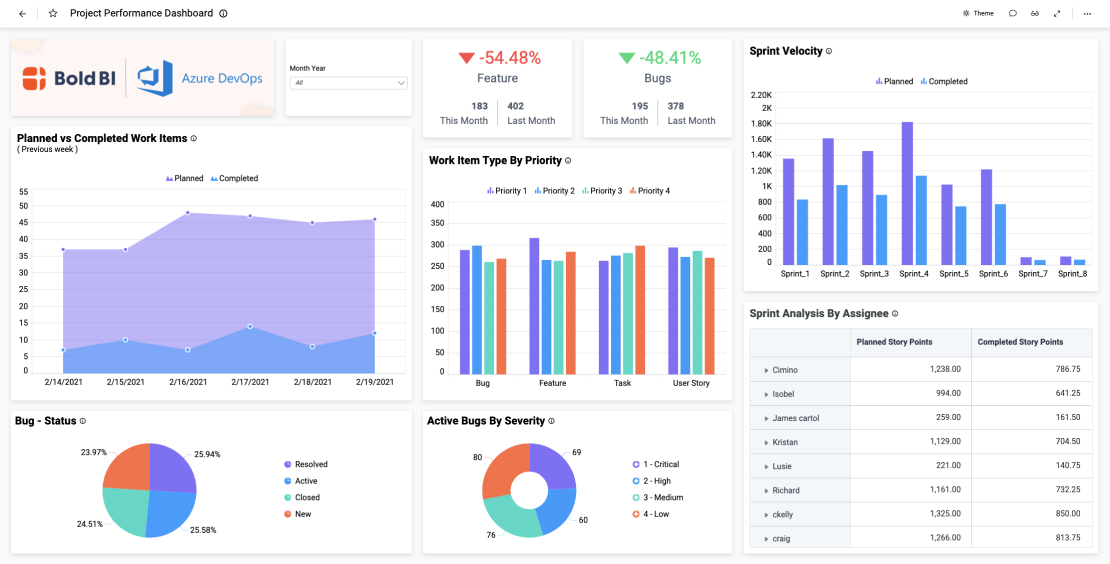 This project performance dashboard provides an overview of an IT team's sprint tasks. With this Azure DevOps dashboard…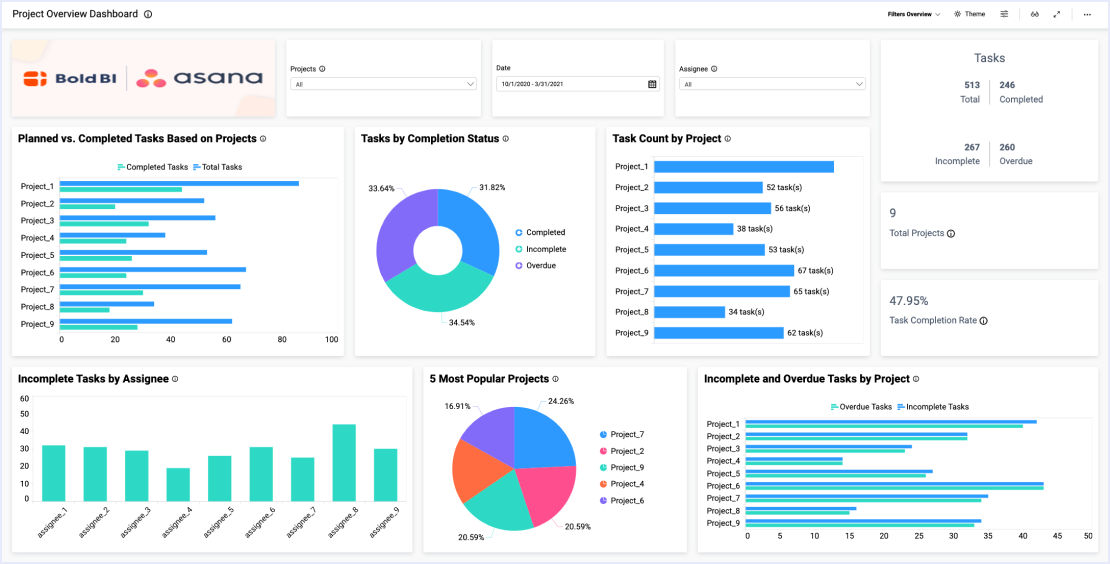 This Asana project dashboard provides an overview of a team's projects and tasks. With this IT operations dashboard, we can answer…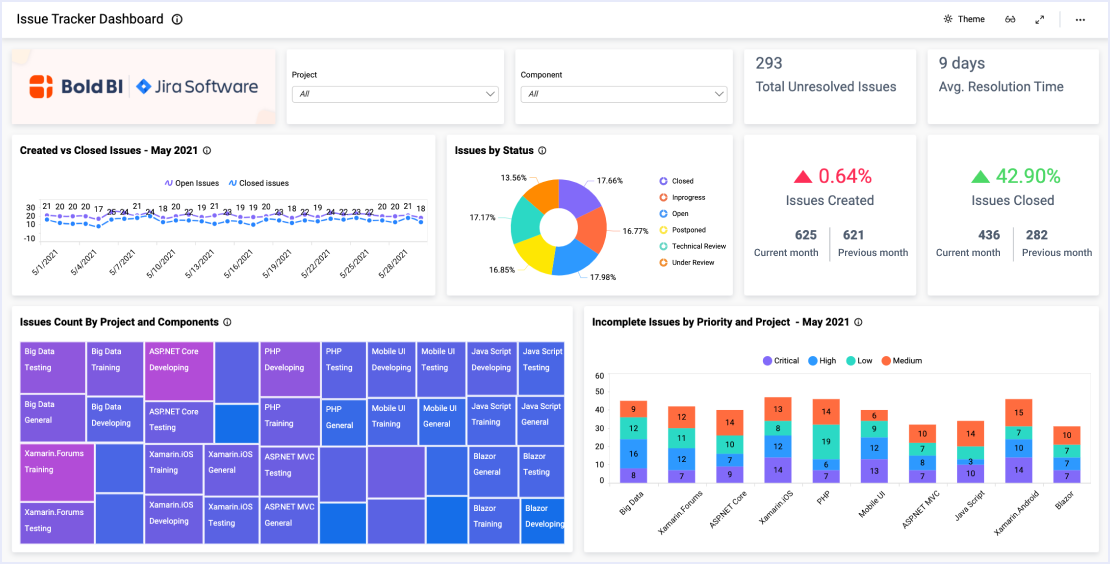 This issue tracker dashboard provides a detailed overview of a team's created and closed issues. With this dashboard, we can answer…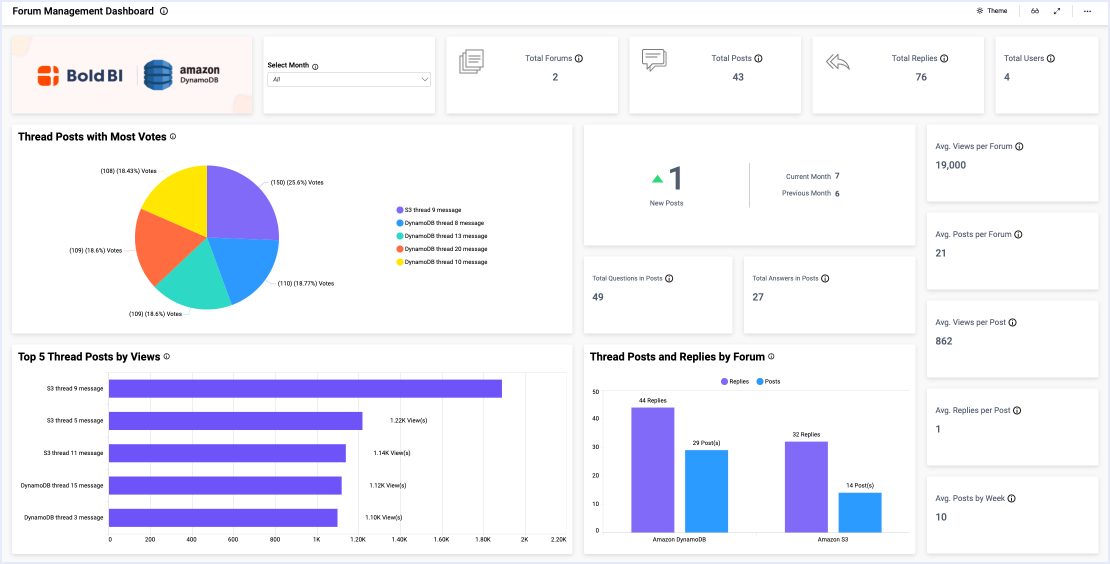 This forum management dashboard allows moderators to track key metrics relating to threads and forums. With this dashboard, we can answer…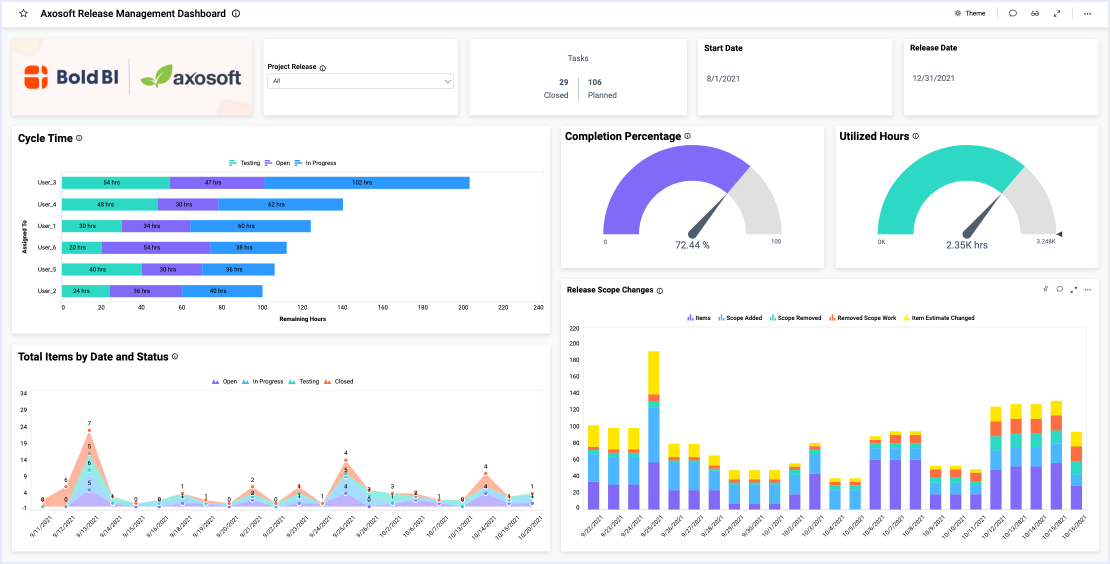 This Axosoft release management dashboard allows product managers to track key product release metrics.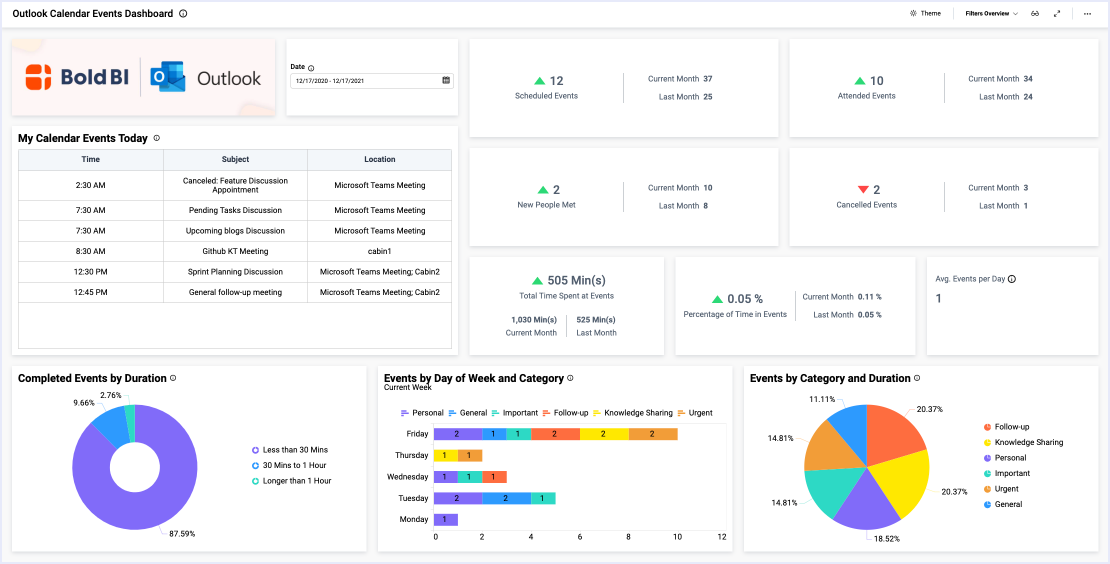 This Outlook calendar events dashboard helps team members optimize their daily activities. With this dashboard, we can answer…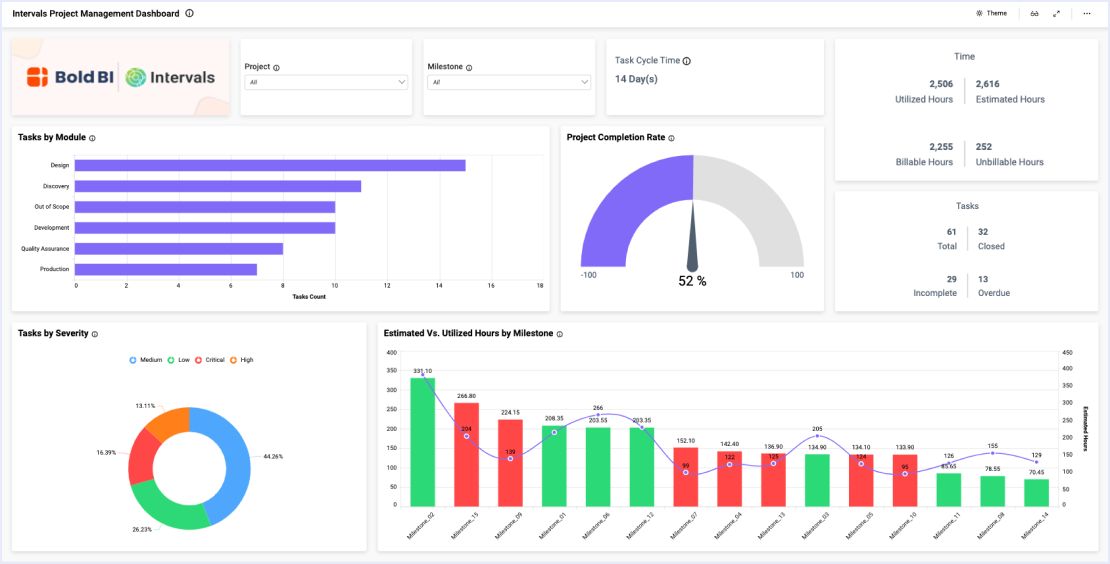 The Intervals Project Management dashboard helps team members and managers organize, track, and measure the success of team projects and tasks. With this dashboard…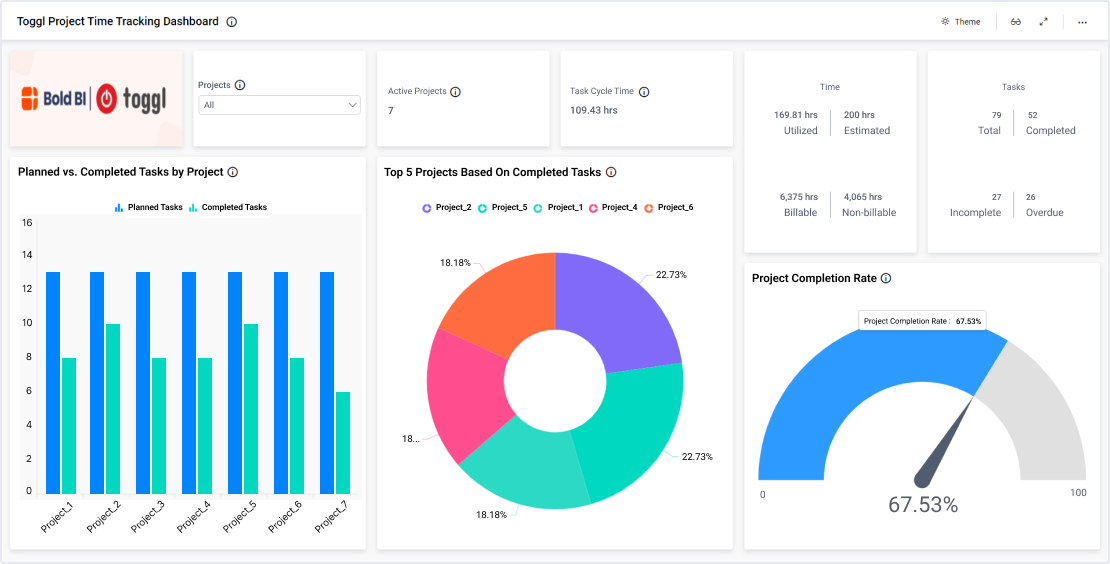 This IT Toggl Project Time Tracking Dashboard allows professionals to thoroughly track a wide range of project based metrics. With this dashboard…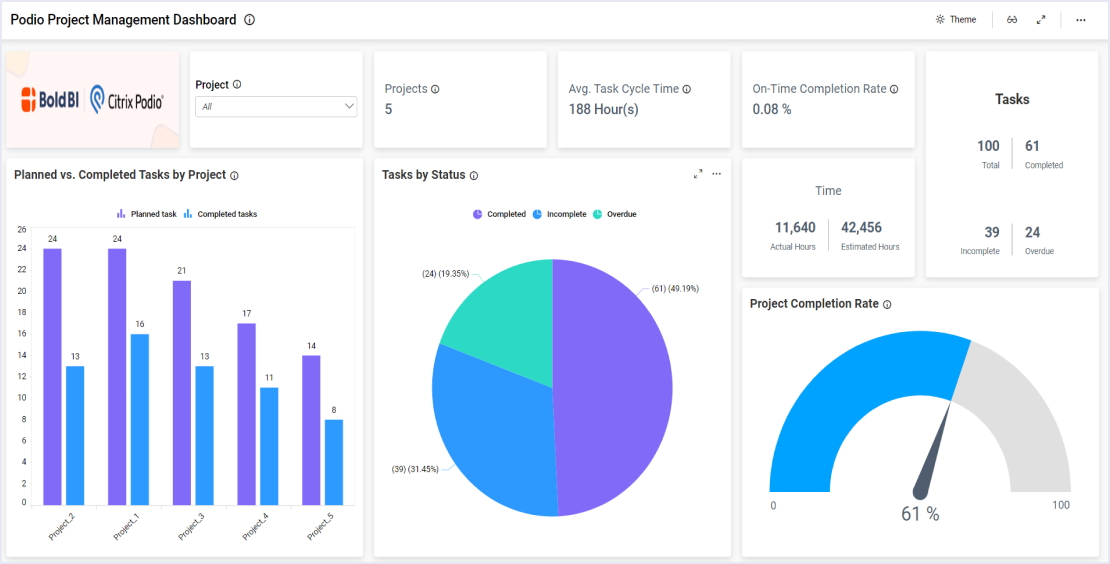 This Podio Project Tracking Dashboard allows professionals to thoroughly track a wide range of tasks based metrics. With this dashboard…
We'll help you find the best solution for you