Track detailed support ticket metrics to ensure customer satisfaction.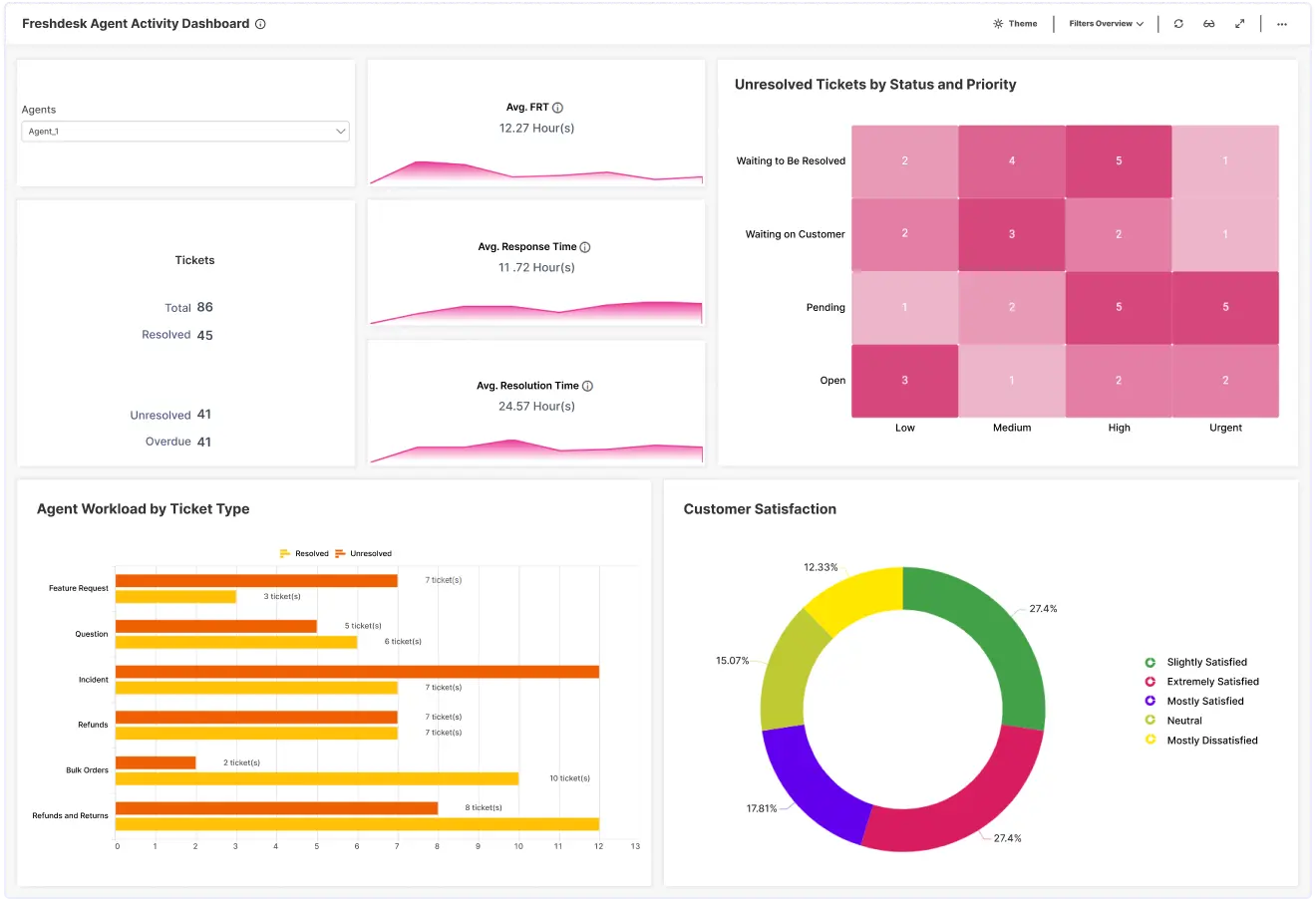 This agent activity dashboard displays various support ticket metrics. With this dashboard, we can answer the following questions:
Firstly, what is our average response time?
Secondly, what is each agent's average resolution time?
Thirdly, how many tickets are resolved, unresolved, and overdue?
Finally, are customers satisfied with our service?
Review Agent Activity Metrics
With embedded dashboards for support agent activities, you can track key details relating to support tickets. For example, with the card widgets at the top of the dashboard, viewers can see the team's average response time. They can also see the number of tickets resolved in the past month. Then, leaders can see the five agents with the most tickets, along with the average resolution time by agent.
Next, several widgets show key details relating to the team's tickets. Viewers can see the total number of tickets, along with the number of overdue, resolved, and unresolved tickets. The "Tickets by Agent and Status" stacked column chart shows the number of tickets in each status that are assigned to each agent. Similarly, the Tickets by Groups treemap shows the number of tickets assigned to each group. The dashboard's line chart outlines the number of resolved and unresolved tickets the team has worked on over the past six months.
Then, two widgets offer insight into unresolved tickets. The Unresolved Tickets by Priority doughnut chart breaks down unresolved tickets by priority while the Unresolved Tickets by Status pie chart shows how many tickets are open, pending, waiting to be resolved, and waiting on the customer.
Three widgets–Average Resolution Time by Month, Response Time, and Average Response Time by Month–offer additional insight into the team's efficiency. With the Group Performance grid, leaders can see each group's number of resolved and reopened tickets, along with their average first response time. Then, with the Satisfaction Survey pivot grid, leaders can see each agent's customer satisfaction scores. Finally, the Ticket Details grid showcases each ticket's subject, creation date, priority, status, and due date.
It is also worth noting that leaders can filter the dashboard's data using the "Date" and "Agents" filters at the top of the dashboard.
This data can help support teams ensure they are quickly addressing customers' concerns and prioritizing their workload effectively. Check out Bold BI's embedded dashboards for support agent activities to learn more.
Support Dashboard Examples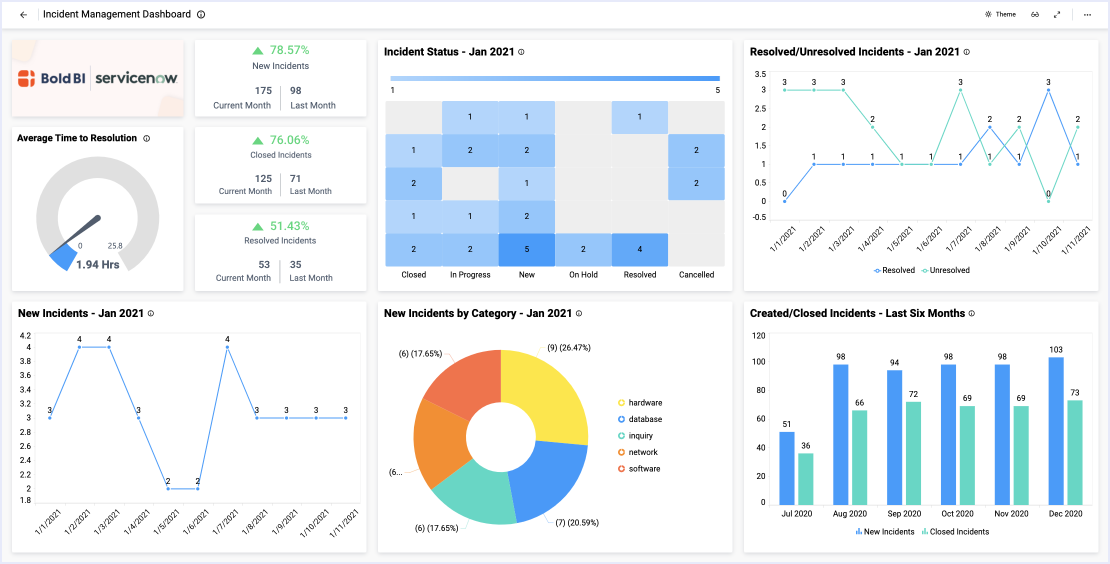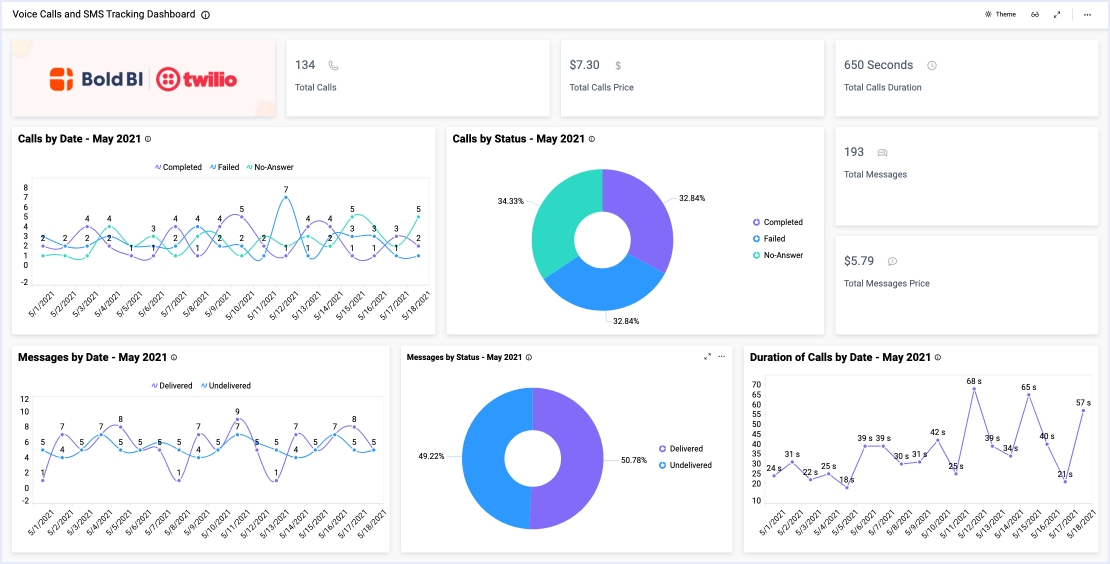 This call tracking dashboard provides an overview of key call and message details. With this dashboard…
Learn More
View Dashboard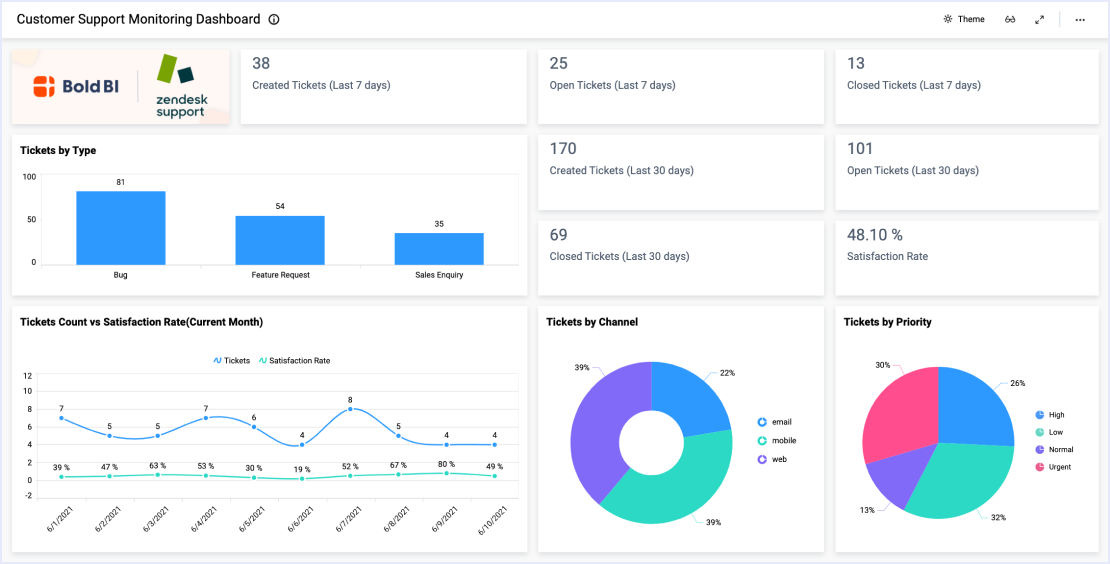 This Zendesk support monitoring dashboard displays key support ticket metrics. With this dashboard…
Learn More
View Dashboard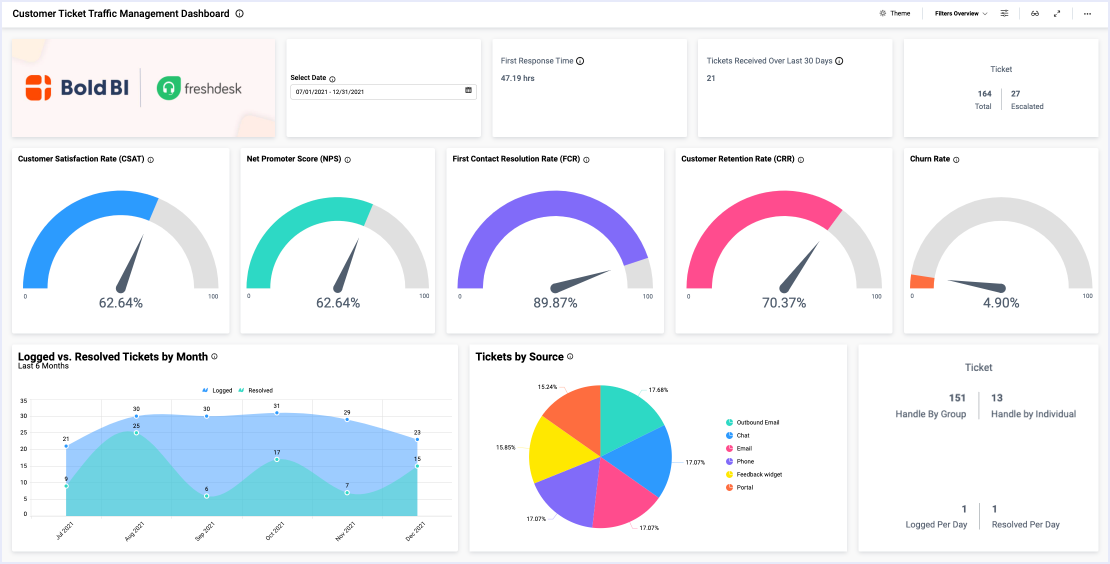 This tickets traffic management dashboard displays various support ticket and customer satisfaction KPIs. With this dashboard…
Learn More
View Dashboard