This healthcare dashboard provides a detailed breakdown of patients' satisfaction with their experiences in various hospital departments. With the Patient Experience Analysis dashboard, we can answer the following questions:
How do patients rate their satisfaction with each department?
On average, how long were patients' visits to each department?
On average, how long did patients wait to see their providers?
This dashboard's information is crucial because it offers insight into customer satisfaction and patients' experiences. Further, it allows the hospital's leadership to easily identify potential areas for improvement.
Additionally, please note the "Day of Week," "Department," "Date," and "Gender" filters. With these filters, users can view data for any desired time period and combination of criteria. These options are invaluable as they allow viewers to either analyze information for a relatively short period of time (either for all departments or one specific department) or evaluate trends that may be occurring over time.
Having all of these data sets available on a single dashboard is invaluable for team members who need a quick visual reference for assessing the hospital's day-to-day operations but who may also wish to focus their analyses on specific subsets of information.
Start your free 15-day trial today
Healthcare Dashboard Examples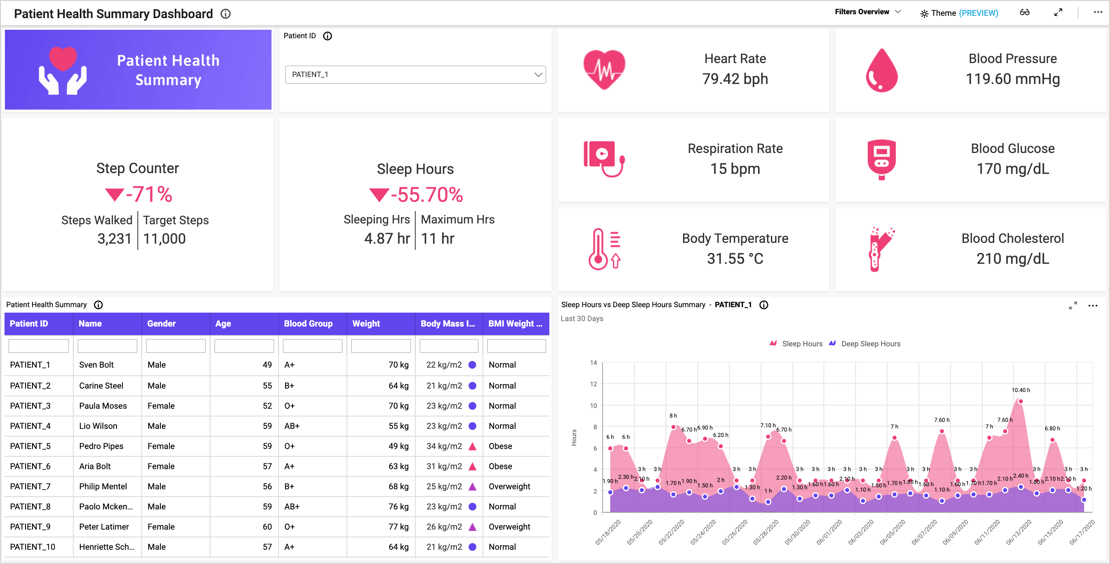 This sample healthcare dashboard displays key pieces of information relating to patients' overall health. With the Patient Health Summary dashboard…
We'll help you find the best solution for you