The pharmaceutical industry is an essential and fast-growing industry that uses business intelligence (BI) solutions to foster effective decision-making, minimize operational costs, enhance sales management, and much more. Nowadays, BI plays a vital role in helping pharmaceutical companies maintain a competitive edge as data becomes more prominent. Analyzing data with BI helps companies identify marketing strategies and sales opportunities, explore market aspects, predict research operations around clinical trials, and much more. This empowers business leaders to make appropriate, data-driven decisions.
In this blog post, I am going to provide a quick overview of business intelligence and its impact in pharmaceutical industries. I will cover the following topics:
What is business intelligence?
Business intelligence is a set of processes that collects and analyzes data to provide insight toward making informed business decisions. Using BI solutions, you can explore emerging market trends, consumer behavior and interest, sales demand, and more to increase business productivity.
Confronting challenges with business intelligence in the pharmaceutical industry
Pharmaceutical industry players must change their strategies and approaches constantly based on market changes to stay competitive and sustainable in the field. With business intelligence, companies can find the solution to overcome challenges in the following areas:
Marketing and sales challenges

Approaching the market with a newly manufactured drug is always a tedious process for the marketing and sales teams. If they fail to come up with innovative approaches to the consumer market, the investments in R&D, marketing, and manpower are of no use. Business intelligence helps your marketing and sales teams to forecast customer buying behavior, slow-selling drugs, seasonal demand, and more. This will help your teams be well prepared to enter the market.
Clinical data challenges

Clinical data enters an organization through a variety of sources such as hospital health records, disease registries, patient surveys, and more. Maintaining that data and gaining insight into it is an enormous challenge. Business intelligence gives you the solution to monitor all clinical trials and tests, and enables users to maintain that data and discern essential information from it. Through the analysis, you can know about seasonal market changes and in turn alter supply for the consumer to maintain cost-effective production.
Operational challenges

Due to population increase, the scope of the pharmaceutical market is getting broader. Consumers expect products to be of great quality and cost-effective. To cater to the growing market, industries should manufacture quality products at a low cost. With business intelligence, you can achieve effective allocation of resources, develop organizational growth, and reduce costs by improving research processes and clinical performance.
Demand forecasting

Every business player wants to be number one in their field, but the biggest challenge they face is demand forecasting. Manufacturing and delivering drugs on time helps you stay ahead of the competition, and maintaining that edge requires you to forecast demand. With business intelligence, companies can get a reliable market forecast from analyzing consumer data, pricing data, and available inventory data. Forecasting demand also allows companies to enhance customer service levels by matching support resources with the level of forecasted demand.
Risk management

One of the most important challenges of the pharmaceutical industry is managing risk in delivering drugs to consumers without compromising quality. Every product undergoes various processes while being manufactured. Business intelligence helps you monitor all the processes so that risks in the product and processes are detected quickly and efficiently. With this insight into the manufacturing process, you are able to devise risk management strategies and improve the market value of the company's products.
Benefits of business intelligence in the pharmaceutical industry
Business intelligence helps you analyze and visualize all your data in an effective manner, allowing you to forecast seasonal changes in demand that will help your marketing and sales teams perform better in terms of sales productivity.
Business intelligence helps you track and monitor clinical trials, R&D processes, side effects, and drug contraindications to identify and elminiate the risks of the product, providing consumers with quality drugs.
You can optimize operations within your organization to increase revenue, promote brand awareness, and reduce operational costs.
Business intelligence helps you understand changing market trends, anticipate consumer behavior, and gain a business advantage over competitors by enabling you to make better decisions.
Business intelligence helps you optimize inventory more efficiently by keeping you informed of the inventory that is likely to go out of stock and when to restock according to market needs.
Business intelligence helps you analyze pricing structure, investigate shifting customer interests, and make proactive decisions that will boost the growth of your organization.
Bold BI's solutions for the pharmaceutical industry
Bold BI solution dashboards give you deeper insight into your data by tracking all your important metrics and KPIs in real time, and helps you achieve desired business results. With Bold BI's fully customizable and interactive dashboards, you can connect 130 data sources, customize them with conditional formatting options, and get alerts when a certain threshold limit is met.
Pharmaceutical production analysis dashboard
Bold BI's pharmaceutical production analysis dashboard gives you a detailed overview of production quality through cost and time incurred in yearly quarters. It helps you track important metrics such as lead time of drugs, production quality, manufacturing cost, LAR (lost acceptance rate), PQCR (production quality complaint rate), and takt time.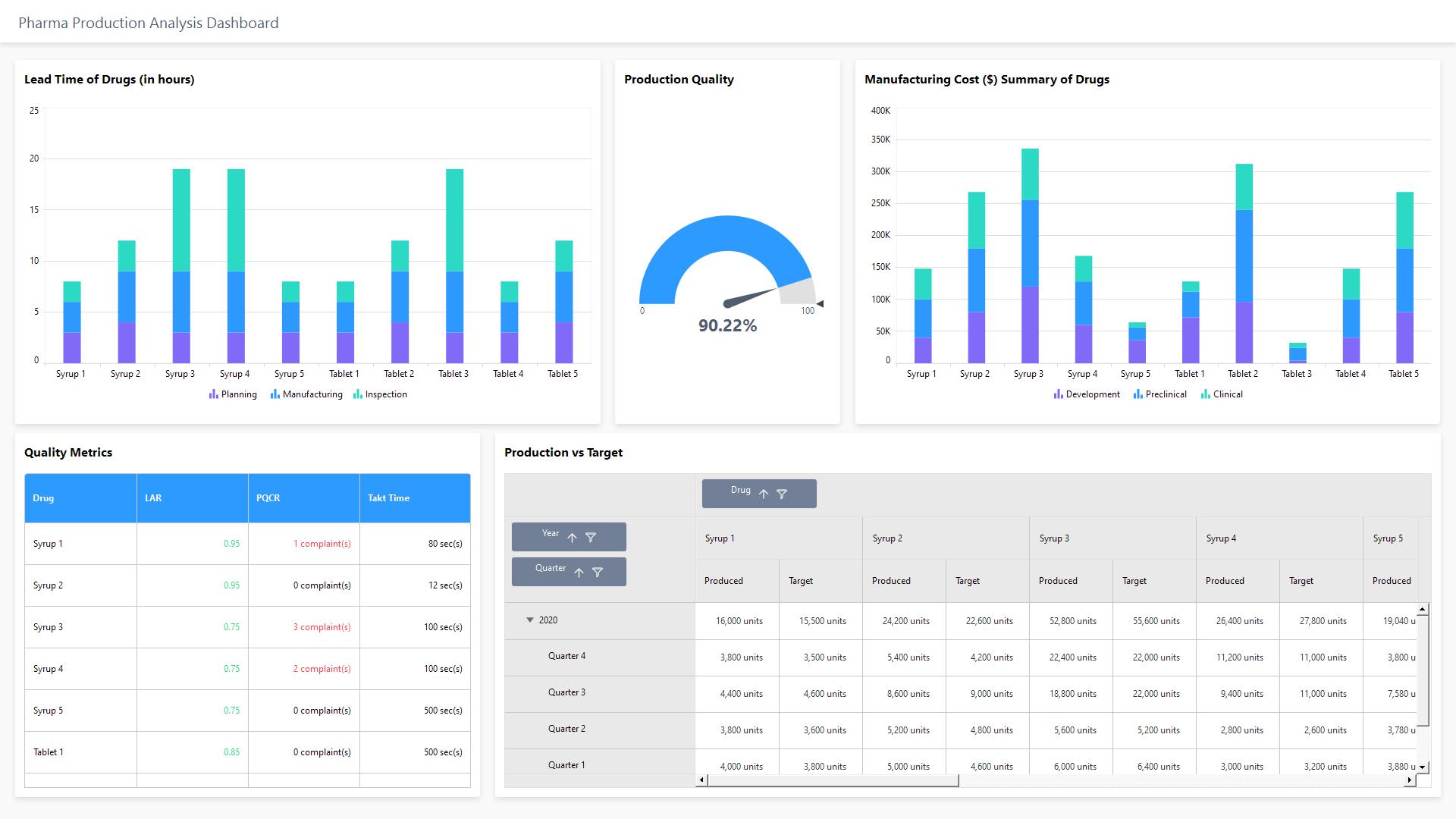 The reasons for monitoring these metrics are:
Takt time: Tracking takt time will eliminate wastes of time that usually go unnoticed.
Lead time: Tracking lead time will help you know the hours taken to complete different phases of drug production.
Manufacturing cost summary: Tracking cost incurred for each drug during development, preclinical, and clinical phases provides an easy-to-comprehend visualization of the investment.
With this dashboard, key decision-makers are able to track these important metrics and KPIs to make better decisions in the future.
Pharmaceutical sales performance dashboard
Bold BI's pharmaceutical sales performance dashboard gives you an overview of sales performance in different states over past quarters. It also allows you to track the sales volume of drugs, Rx (prescription) sales, non-Rx (non-prescription) sales, NBRx (new-to-brand prescription) sales, sales over quarter, and profit by channel.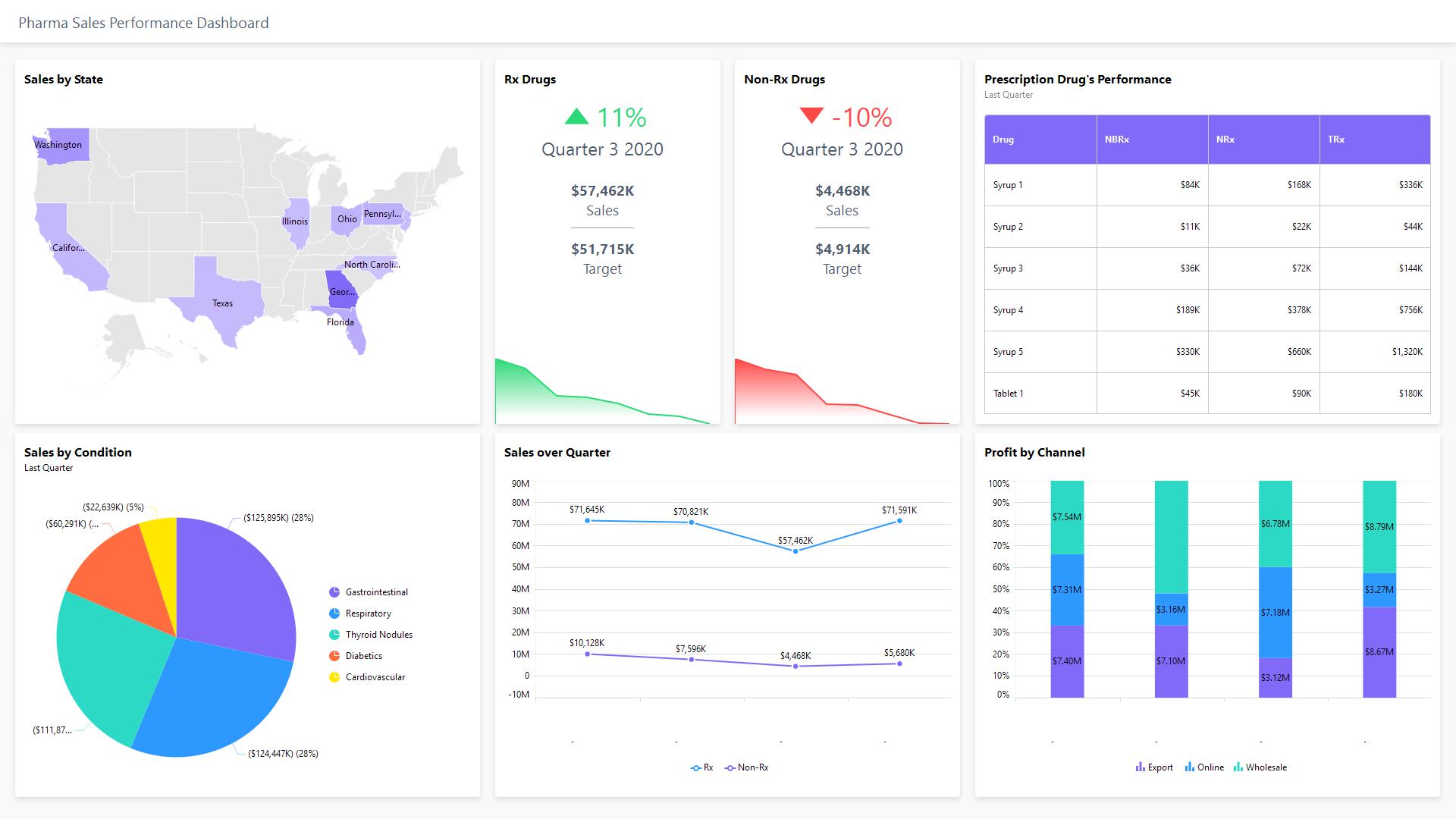 The reasons for monitoring these metrics are:
Sales by state: Tracking sales in different states helps you know about market trends and maintain sufficient inventory in the respective states.
Rx and non-Rx sales: Tracking the Rx and non-Rx sales helps you monitor the performance of sales representatives who create brand awareness about the drug among physicians and hospitals.
Sales by condition: Tracking sales by condition lets you know the fastest moving and most needed drugs in the market. By knowing this information, you can boost the sales of drugs based on the market needs.
With this dashboard, business decision-makers can manage and track the above mentioned metrics to stay informed of drug performance, actively monitor sales representative performance, and better manage inventory.
With the continuously evolving challenges of putting pharmaceutical data to work, you can use business intelligence solutions to gain better insight into every dimension of the business and its position in the industry. From there, you can derive productive, effective, and efficient business plans and decisions.
Conclusion
I hope now you have a better understanding of business intelligence and how it will help you to overcome the challenges of running a successful pharmaceutical company. Get started with Bold BI by signing up for a free 15-day trial and create more interactive business intelligence dashboards. If you have any questions, feel free to post them in the comments section below. You can also contact us by submitting your questions through the Bold BI website or, if you already have an account, you can log in to submit a support question.