Solutions for Insurance Industry
Ensure quality and deliver better customer service by visualizing key insurance metrics. Track claim settlement times, customer satisfaction ratings, and more.
When you work in the insurance industry, you need to track KPIs like claim settlement times and customer satisfaction ratings. On one hand, you need to monitor long-term trends in customer activity. At the same time, you need to follow your team's daily tasks. Without a business intelligence solution you can depend on, keeping track of so many key metrics can seem like an impossible task.
That's where Bold BI comes in. With our business intelligence solution, your team can access all of the crucial insurance KPIs you rely on in one convenient location and significantly streamline your business processes. Whether you need to study financial metrics or customer retention rates, we can help you achieve your goals.
To get started, check out our sample insurance dashboards. Then, request a demo for a complete walkthrough of Bold BI.
Insurance Dashboard Examples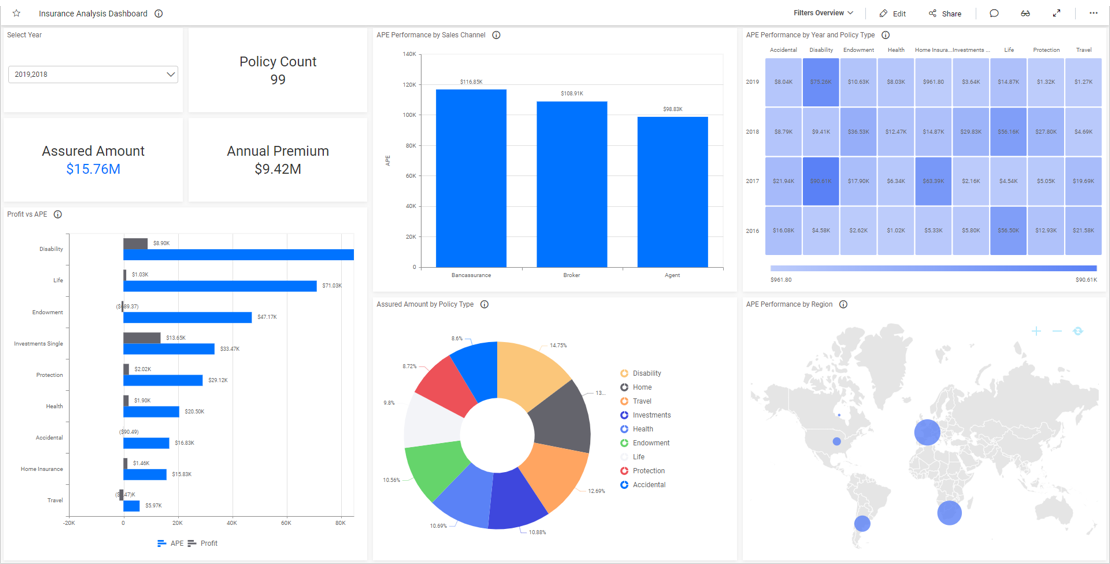 Bold BI's insurance analysis dashboard outlines an agency's sales and profitability performance metrics. Using this insurance dashboard…
Learn More
View Dashboard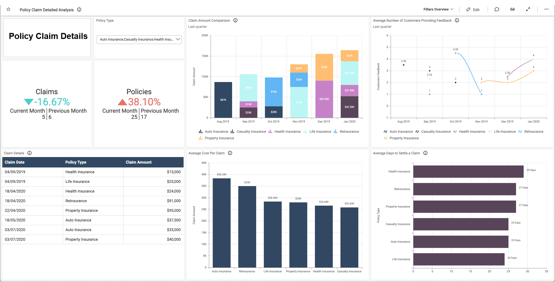 This dashboard provides an overview of a company's insurance claims metrics. With this dashboard, viewers can answer...
Learn More
View Dashboard
Bold BI for Insurance – Common Metrics
With Bold BI's user-friendly, fully customizable dashboards, you can track all the key performance indicators that your team depends on:
Average time to settle a claim
Average cost per claim
Revenue earned per policyholder
Loss ratio
Expense ratio
Customer renewal and retention rates