Bold BI for Predictive Analytics
Predict future outcomes, identify business risks, and understand consumer trends. Operate more efficiently, maximize revenue, and gain strategic business insights
Predictive analytics uses data analysis to predict future outcomes, allowing you to gain valuable insights and make more informed business decisions. With predictive analytics, you can use your data to recognize trends, predict future events, and identify business risks and opportunities. No matter your industry, predictive analytics can help you anticipate your business needs and understand consumer trends.
Utilizing predictive analytics within your Bold BI dashboards can help you operate more efficiently, maximize revenue, and gain strategic business insights. Whether you're a hotel manager preparing for the number of guests you'll have next weekend or a marketing professional who needs to know which online behaviors typically lead to a purchase, Bold BI's beautiful, user-friendly dashboards make it easier than ever to visualize your data and make more informed business decisions.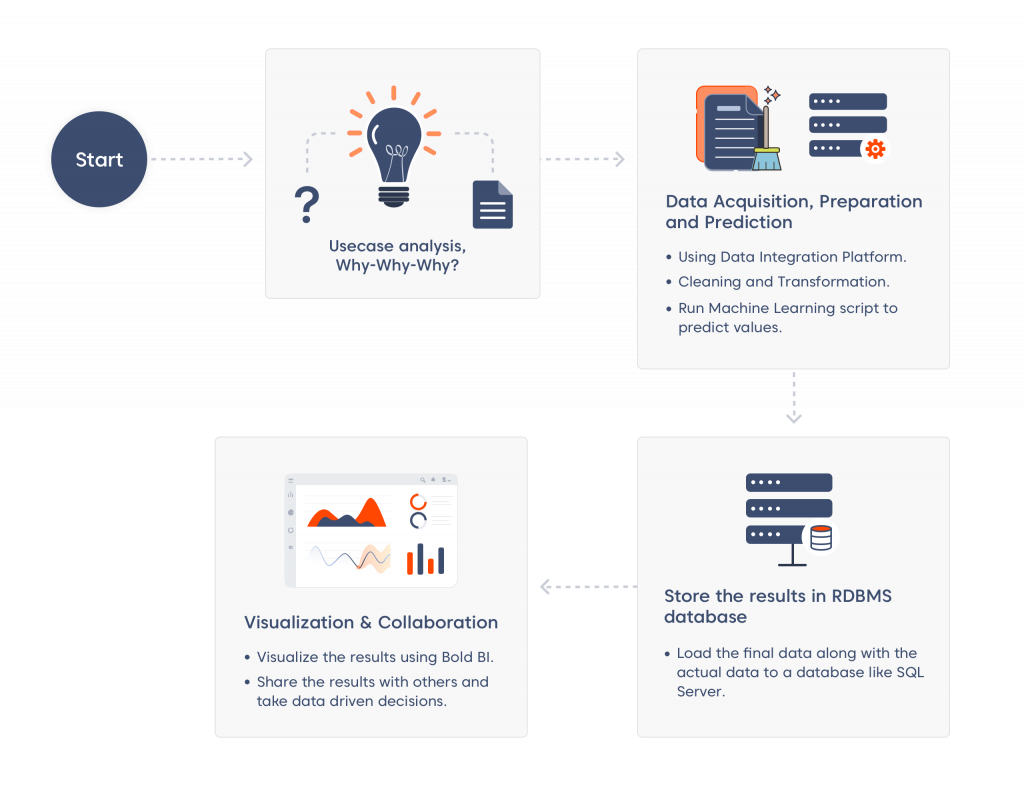 Any AI or ML use case goes through such a life cycle. Using Syncfusion's Data Integration Platform, the ETL process to extract data from a source, transform/process it by running python machine learning scripts as scheduled and export the resultant data to the SQL server can be done with ease. This helps visualize data into meaningful insights in Bold BI.
Predictive Analytics in Industries
Predictive Analytics in Departments
Bold BI for Predictive Analytics – Common Metrics
With Bold BI's user-friendly, fully customizable dashboards, you can track all the key performance indicators that your team depends on:
Sales forecasts
Projected revenue
Projected expense
Churn rate
Conversion rate